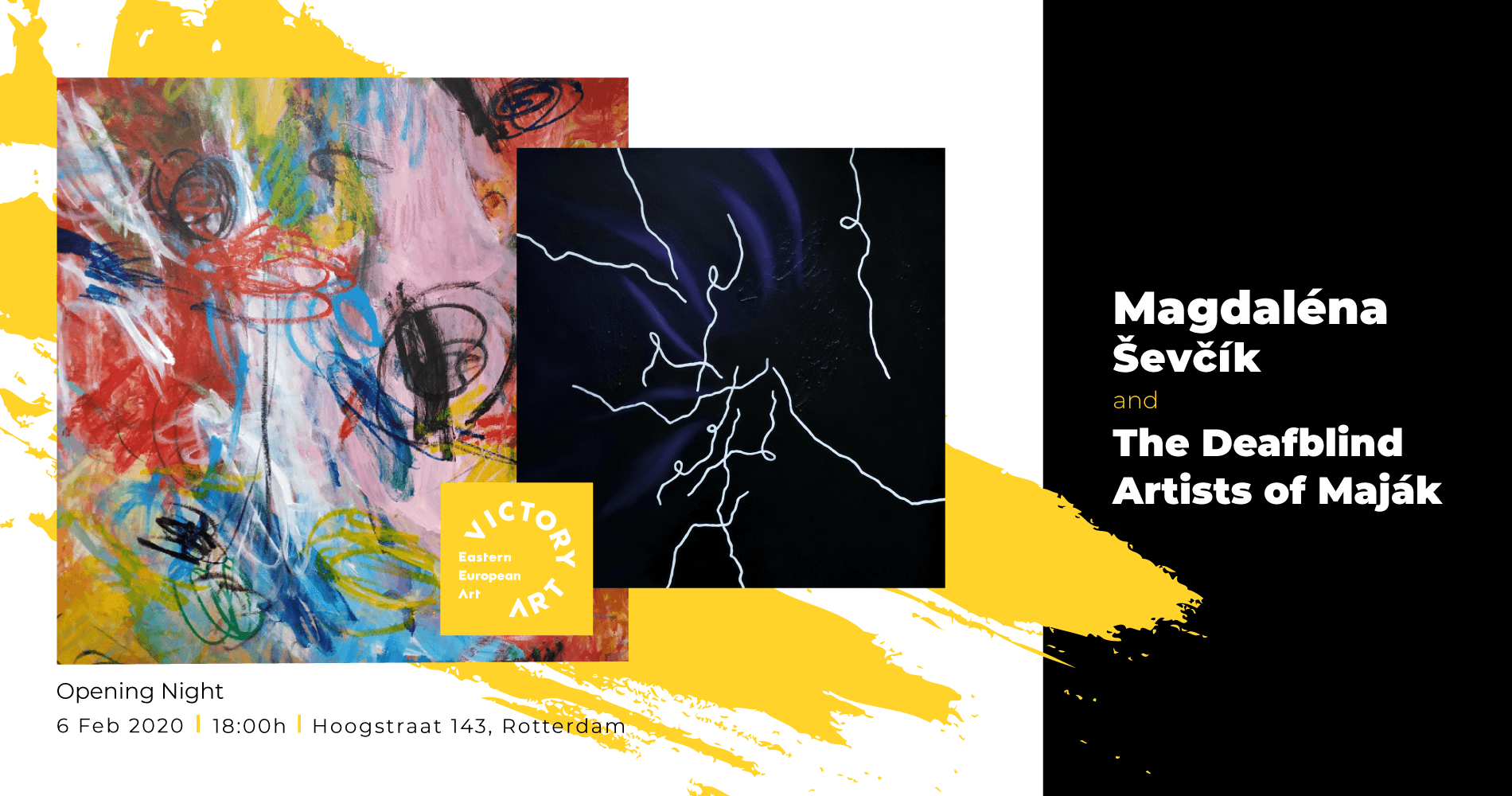 Opening Night : Thursday, February 6th | 18:00 – 22:00 CET
Address: Hoogstraat 143, 3011 PM Rotterdam
Entrance: Free!
*Let us know you're coming by registering here
Visit us during Art Rotterdam Week until 17th of February, 2020:
𝟳𝘁𝗵 𝗙𝗲𝗯𝗿𝘂𝗮𝗿𝘆 𝗙𝗿𝗶𝗱𝗮𝘆: 𝟭𝟰:𝟬𝟬 - 𝟮𝟭:𝟬𝟬
𝟴𝘁𝗵 𝗙𝗲𝗯𝗿𝘂𝗮𝗿𝘆 𝗦𝗮𝘁𝘂𝗿𝗱𝗮𝘆: 𝟭𝟭:𝟬𝟬 - 𝟭𝟵:𝟬𝟬
𝟵𝘁𝗵 𝗙𝗲𝗯𝗿𝘂𝗮𝗿𝘆 𝗦𝘂𝗻𝗱𝗮𝘆: 𝟭𝟮:𝟬𝟬 - 𝟭𝟴: 𝟬𝟬
Between 10th and 17th February
𝗘𝘃𝗲𝗿𝘆 𝗙𝗿𝗶𝗱𝗮𝘆: 𝟭𝟲:𝟬𝟬 - 𝟭𝟵: 𝟬𝟬
𝗘𝘃𝗲𝗿𝘆 𝗦𝗮𝘁𝘂𝗿𝗱𝗮𝘆: 𝟭𝟭: 𝟬𝟬 - 𝟭𝟳: 𝟬𝟬
At Victory Art, we lend the voice to of talented artists from Eastern and Central Europe; a platform to showcase the unique perspective the world hasn't had a chance to explore yet. We're kicking off Art Rotterdam with two very different but equally alluring artists: Magdaléna Ševčík and The Deafblind Artists of Maják.
Intuitive Art: The Deafblind Artists of Maják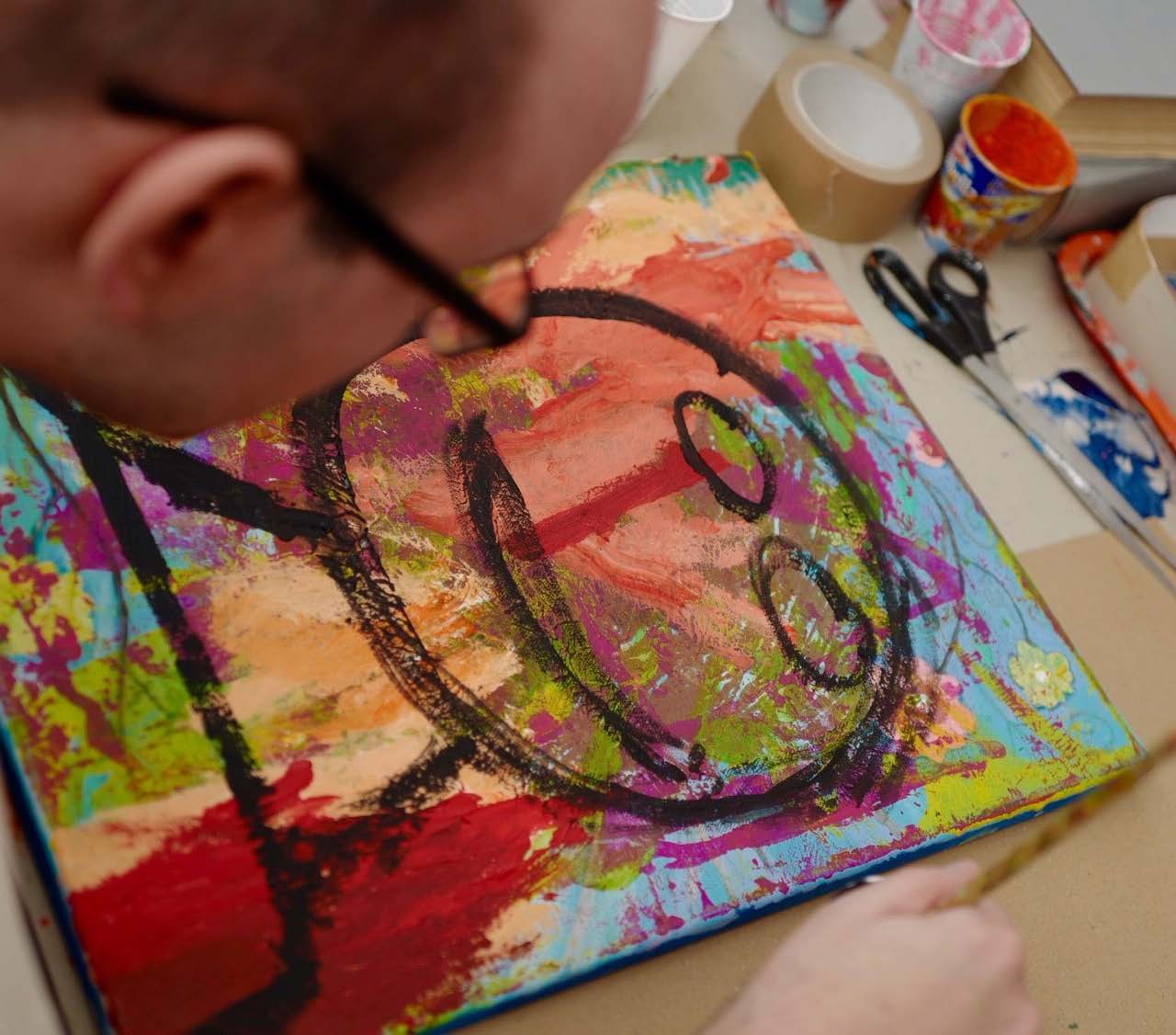 When Maják, a deaf-blind residency in Slovakia, first introduced their residents to art, they didn't fully expect the impact it would have. Fast forward 15 years and their residents are masters at communicating their happiness, pain, and frustrations through the canvas, in the most awe-inspiring manner. The final artworks not only uplift their makers but everyone who has a chance to witness them. So come witness them with us!
Intentional Art: Magdaléna Ševčík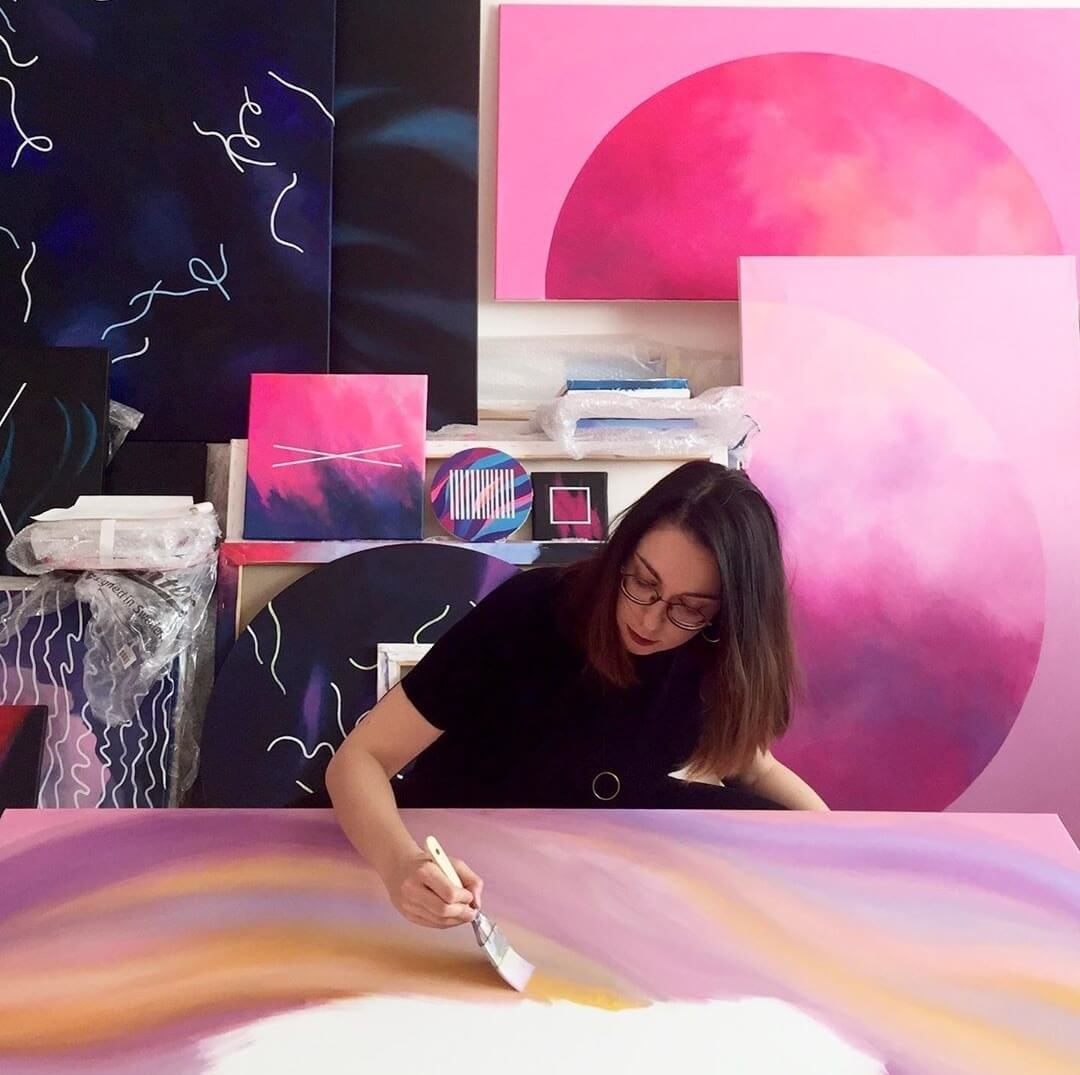 Magdaléna Ševčík's is a stubborn experimenter and a hard worker. Most of my life is spent working in my studio: her happy place, covered in paint and used tape. Sometimes, she even forgets to eat. Regardless, it is a lifestyle she embraces with open arms. While she started off her art journey pulling most of her inspiration from nature, it later evolved into a fascination for architecture. Eventually, she found her current style--symbolic colours in contrast with these geometric elements. Her latest works of art can be considered unconventional and deliberate, unlike her previous approach, which leans more to the theme of Eastern and Central European winter. Rather than her signature continuous black line and the use of warm colours, her newest works use cold colours of blue, such as blue and indigo tinted with a little cyan, along with partial filling of snow-white, black and disruptive white line similar to the neural pathways.
---
Ladies! Join us and other amazing women for our Ladies Night, to learn, inspire, and uplift each other the best way we know: with art, wine, and good vibes.
Hoogstraat 143
3011 PM Rotterdam