An Essential: Interior Design Themes for the Loft
30.06.2019
Originating in the 1940s in Manhattan factory districts in New York, lofts represent a modern urban style in interior design. The word 'loft' literally translates to attic or mansard – the top floor of a factory building.
Originating in the 1940s in Manhattan factory districts in New York, lofts represent a modern urban style in interior design. The word 'loft' literally translates to attic or mansard – the top floor of a factory building. In early 1950s lofts were mainly included factory or warehouses and were gradually used by artists to hold exhibitions.
Presently, lofts comprise of abundant open space and industrial elements in a minimalist or bohemian decor. Characterized by high ceilings, raw brick walls and exposed beams and pipes, lofts have become a major trend gaining traction in Europe as well as the USA, where it originated. It is considered to be one of the most expensive styles in interior design.
The interior style of lofts depends on the owners of the loft. A free-layout owner would prefer spacious rooms and high ceilings achieving the perfect amalgamation of rustic and modern elements of this apartment allowing the owner to reveal its true beauty. Millennials, on the other hand, prefer the emphasized individuality of these apartments. Creative people, much like the previous era, consider lofts ideal for exhibitions and presentations. Lastly, thrifty people are particularly interested in the expensive look the loft achieves even with minimal and affordable furniture.
Which kind of loft owner are you? Take a look at the elements you can attain while embellishing your loft apartment.
Achieving an urban charm
Loft essentially comprises as attaining modern essence in traditional spacing. Loft exposes historical details "from the last century" through its raw brickwork, high ceilings, cement floors, exposed beams and ventilation and many other characteristics that make this apartment stand out from the other apartment styles.
Decorating your loft with modern furniture, artworks, mirrors, and chrome details create a natural look and fit very well with open space. Such modern accessories complement well with the traditional fireplaces which have firmly been associated as loft-style elements and become its absolute highlight.
Approach a modern and urban charm in your traditionally spaced loft with the statement piece entitled Lion by Zulu from Victory Art's collection.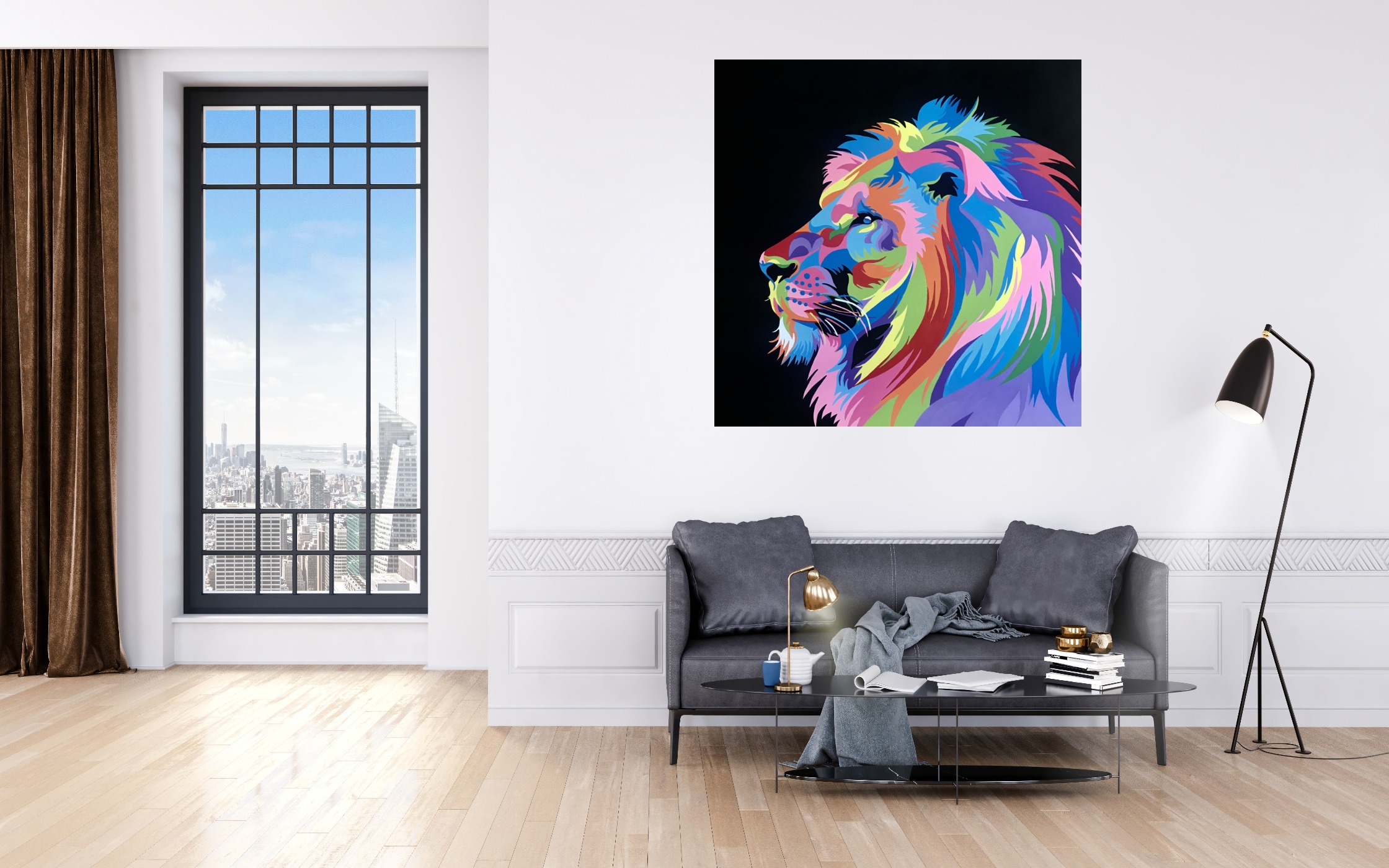 Lion by Zulu
Making the most of an open space
The reason why loft interiors remain largely popular is due to its emphasis on individuality which makes this apartment look particularly more interesting than other types of interiors.
The essence of these interiors is bright accents and mostly neutral tones which fills the room with natural sunlight through high and wide, uncurtained windows to allow maximum penetration. The loft is always about huge open space which usually is more than one hundred square meters.
A statement piece adds to the main and distinctive features of these interiors. Large artworks work better with these interiors rather than a collection of small artworks as this type of interior highlights minimal use of internal walls. Another statement piece from Victory Art collections that can highlight the open space of your loft is UNBRIDLED by Kateřina.
UNBRIDLED by Kateřina
Achieving an expensive look
As loft interiors cleverly combine the creative elements of modern and intentionally aged materials, textures, and surfaces, the achieve a so-called glamour interior design style. In fact, you can even achieve this style in a small apartment with low ceilings which adds to its urban charm.
Home decor is as well extremely important but always remember to minimally furnish the loft which is one of the most important rules of loft design. Another trick is to not locate the minimal furniture near the walls but in the middle of the room which makes the apartment feel spacious. An expensive look can also be achieved by decorating the loft with mirrors, floor lamps, LED lighting and potted plants.
The glamour interior works on the color palette to achieve a non-conventional combination of neutral shades. This can be achieved either through artworks or furniture. But the best combination is gray-brown furniture or gray-lilac color scheme with stand-out pieces. This can be best achieved with NIGHT OCEAN by Andrea Ehret who offers a combination of gold dust on canvas undoubtedly achieving an ostentatious look.
NIGHT OCEAN by Andrea Ehret
Integrating a bohemian and minimalist style
While the traditional aspect of this interior is preserved and cannot be changed, creativity can be incorporated in this type of apartment through decor. New furniture and accessories are combined with the classic and rustic loft-style elements.
In a bohemian loft, art pieces and accessories come to the forefront. These can be avant-garde paintings, musical instruments, and decorative plants. The main requirements for the decoration of this loft are the Scandinavian interior style of minimalism.
Minimalism in a loft cannot be achieved through small items such as chairs, poufs, and hangers but also stand-out and neutral pieces of artworks. A vintage or modern picture frame can as well add to the look of the room.
Want tips on how to attain a minimalistic interior? Take a look at How Minimalism Influences Scandinavian Interior Design.
DEATH by Klára
if you look closely, you can notice the special features that make this interior style stand out from the rest of them. With a combination of modern and old, loft achieves a uniqueness that most homeowners desire