Art Rotterdam Week
02.02.2020
The 21st edition of Art Rotterdam Week is upon us this February and we are here for it!
With a mix of participating galleries and artists, art lovers and collectors can immerse in an immense collection of artworks with different concepts, coming from various artists and galleries, demonstrating the artistic progress in visual art. Artists from all over Western Europe, like UK, Belgium, Germany and many more will be presenting their latest creative triumphs
Typically located around major art museums and art house in Rotterdam, with Van Nelle factory the center of all, Art Rotterdam Week has been positively reviewed every year, with the number of attracted tourists up to 28,500 people. Art Rotterdam Week features a number of diverse concepts coming from various artists. Last year's exhibition featured OBJECT Rotterdam at HAKA Building, which was suitable for design lovers with a filling of cutting-edge interior products, furniture and lighting designs. Qade Solo Project at Cruise Terminal featuring mainly curation from established Dutch galleries; and on top of all, Art Rotterdam Fair at Van Nelle factory with the participation of various artists coming from different countries, dedicated to the promotion of emerging artists. Art Rotterdam is truly an indication collective collaboration of international artists as hallmark of global partnerships
This year, Art Rotterdam Week has returned, and it is bigger than ever. With its return of usual exhibition at the great industrial building of Van Nelle factory, OBJECT Rotterdam at HAKA Building, this year feature a number of new exhibitions including creative technology festival at TEC ART Rotterdam for techno lovers, Delftsblauw at Witte de With Contemporary Art for lovers of ceramic artefacts. But this year, we have a new special for you, lovers and supporters of Victory Art: Our upcoming exhibition is proudly a part of Art Rotterdam Week. ​​​​​​​
Another exciting news regarding this year is that Victory Art will also be participating this year! On the 7th to 9th of February at Hoogstraat, we will kick off Art Rotterdam Week with our exhibition featuring our emerging artist Magdaléna Ševčík from the Czech Republic, and The Deafblind Artists of Maják from Slovakia. This exhibition gives you the best of both worlds: deliberate vs spontaneous, sensory vs intuitive, dark vs bright, indifference vs joyful, and many more.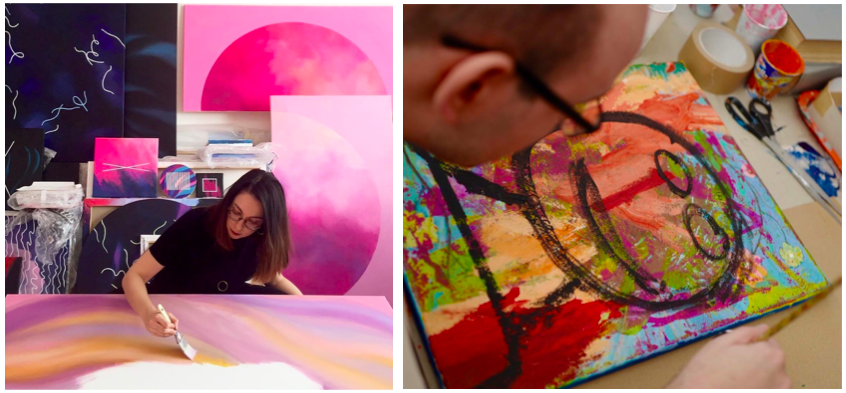 Maják, or lighthouse in Slovak, is a specialized institution dedicated to providing daily care and personal development for the clients with visual and auditory impairment through the TOUCH technique, in which they use physical touch to communicate with each other and to express themselves., they provide the 7 residents of Maják with art therapy, which allowed the clients to spontaneously express themselves through art. Their strongest power lies in their bright intuition, which helps them mentally visualized their worlds as bright, lovely, free and joyful full of fun, hence their usual use of warm colours and unruly drawing. In contrast to the residents of Maják is Magdalena, one of our artists.
Sevcik started her artistic career at the age of 26 after an intense fine arts study residence in Rovaniemi, Finland. However, she considers herself to be a mostly self-taught artist with highly-developed & symbolic visual language. Immensely curious towards the issues of the human psyche, most of her recent work revolves around the conversation of the limitations and lack thereof the human mind. Her series explores anywhere from the debilitating effects of the processes like Alzheimer's disease: a slow and painful annihilation of one's memory and sense of self, the paralyzing effects of anxiety to the gradual transformation from a relationship to a toxic one. Unlike her previous works that warm colours, such as crimson and yellow, her newest method of approach is through the use of cold colours of blue, such as blue and indigo tinted with a little cyan, along with partial filling of snow-white, black and disruptive white line similar to the neural pathways.
The juxtaposition of both the power and limitations of the human mind, we have prepared an empowering exhibition for you. So come with us on the 6th of February during opening night, and we guarantee you won't regret the experience you will be given.