Top Moments from Our Past Years - Victory Art 4th Birthday
02.05.2022
After another busy and exciting year, we decided to round up all the amazing opportunities and events Victory Art has had over the past few years!
Victory Art is a nonprofit organization that represents, supports, and promotes Eastern, and Central European artists by connecting them to the global art market through the platform. The platform was founded on the 1st of May 2018 following the start of their Instagram page that had more than 300 supporting artists. Just six months after there was more than 600 pieces of art on the platform! Victory Art's role is to present outstanding artworks from emerging artists to an international audience. In addition to the wonderful range of paintings, mixed media, drawings, and photographs available for sale on the online shop, several helpful services are offered to educate, assist, and encourage all artists who have suffered from a lack of representation or knowledge of how to thrive in the market. The company was founded by Viktória Pikovská, a young and ambitious entrepreneur with a professional background in photography and a passion for the arts.
Through several successful collaborations, Victory Art has managed to display our artists talents to the fellow art lovers of their country and many members of the online community. offers a range of services like free art business consultancy sessions and informative seminars! Renting, purchasing, and hiring of artworks is a part of the organizations unique business model and is challenging, but extremely gratifying. The bonds created with the artists are meaningful and to see them succeed is the whole reason for the company's existence.
Victory Art's team consists of young, ambitious people who are in line with our vision. The team aims to generate value for clients and artists, think creatively and be inspired in order to extend capabilities and experience. An optimistic approach is taken towards every situation and creativity, passion and spirited are all qualities that are highly valued by Victory Art and aim to instill this energy in our artists.
In January of the following year, Victory Art hosted its first exhibition that was in collaboration with RAW Streetphoto Gallery in Rotterdam. Following this exciting event, Victory Art proceeded to successfully collaborate with the Slovak Embassy, WTC, the renowned Dutch Bank ABN Amro, and Peta during the months of May through November of 2019.
In June the team organized an exhibition in collaboration with the World Trade Center (WTC) featuring Andrea Ehret, a talented Slovakian artist and her 24K Feelings collection. The collection featured the use of golden dust, added intricately to the canvas to detail each painting in a unique way. It was an exciting event and so pleasant to see Andrea showcase her talents and share it with other art lovers. For Victory Art, it was a great and significant achievement!
On the 20th of November, Victory Art organized an event called TOUCH that featured artworks from artists belonging to the residency of Maják, a residency for individuals with deaf blindness that make use of art therapy. The event was extremely successful and numerous attendees were astonished by the level of talent of the members of the Maják community. €1000 in donations was raised for the residency, an amazing achievement for Victory Art. This highlighted the organizations value of inclusion and belief that art is a great outlet for all. The Maják artists are featured on our website, and we will continue to support them and cherish the meaningful connections that have been made.
At the end of a year full of triumphs in the month of December, Victory Art acquired a venue next to Marthal. In July of 2020, the office of Victory Art was opened its first office which was a joyful occasion. In the beginning of the next year, Victory Art's merchandise collection was launched featuring high quality, sustainable products made of ethically sourced products with artists' works displayed on the various pieces. The launch of the merchandise was exciting and one of the main driving forces behind them, similar to every other initiative Victory Art take was to support the artists and provide them with a chance to share their artistic practices and creations further. Victory Art ensures to offer fair representation for the artists and the creation of products that can be used in people's everyday life was the perfect step to take!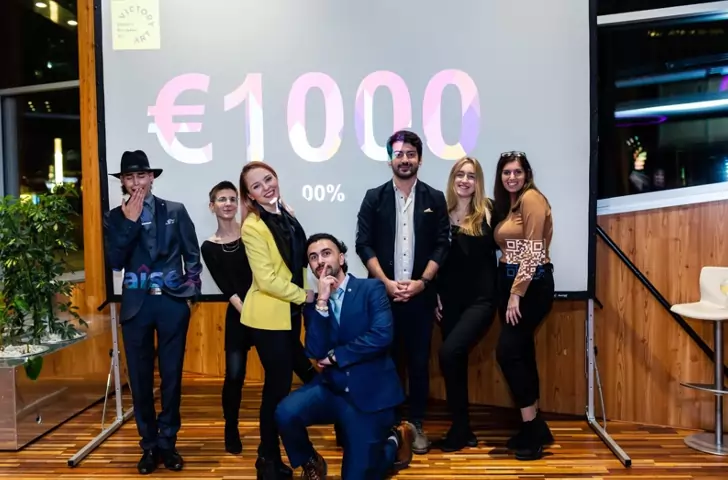 In April 2021 with more than 1, Victory Art launched its AR tool for the products available for the artworks. This tool allows customers to see how a specific painting, photograph or drawing would look on the walls of their home. In July of the same year, Victory Art created a cooperation with NOPA Norwegian Society of Composers and Lyricists. It is an organization dedicated to the interests of the individuals within the society. Their main task is to ensure Norwegian music is created and performed, with a society of more than 1300 members.
In the months of September and October, Victory Art began their first series of seminars for all aspiring artists covering topics about how to navigate through the art industry and collaborated with Industra, a student founded organization created by the members of Industrial Engineering in Eindhoven with a society of 1400 people. The organization aims to organize their activities on a professional, high-quality level while fulfilling at their goals; to integrate industrial engineering students, assist them with navigating the job market, sharing valuable skills, knowledge and creating experiences. Victory Art shares the same values, as the main goal is to help artists thrive in the art market and provide them with opportunities to build connections with other members of the art community.

At the end of another great year, Victory Art had an art exhibition in Poland featuring Dominika Fedo-Wójs a fine artist with an educational background in Graphic Design and Joanna Kniaz-Howrot an intuitive painter who is greatly inspired by conscious movement, dance, cooking and exploring nature. Several art enthusiasts attended the event, shining a light on the extremely creative skills of the two polish artists. Victory Art was proud of these achievements, and it was amazing to promote these Dominika and Joanna as artists along with their artworks and connect them with members of the art community in their home country.
Additionally, in December 2021 Victory Art successfully collaborated with three galleries in Ari Kuspus (Hungary), GJW Gallery (Poland) and Chemistry Gallery (Prague). Victory Art represents talented artists from all three countries and the collaborations were meaningful for both the artists, and the Victory Art team.
In February 2022, Victory Art created a collaboration with an online magazine based, Hue&Eye. The magazine showcases emerging artists specializing in Illustration, Graphic Design, Photography and Digital Arts. The magazine is also up to date with the latest trends, news, and technologies in the digital art space such as NFT art.
Following the unfortunate events that are taking place in Ukraine, Victory Art was deeply saddened by this and the negative impact it would have on our seven Ukrainian artists. It was decided that these artists would put their creative minds to further use and create a poster campaign featuring three female artists Tanya, Yulia, and Alina's works. Victory Art has been working with Ukrainian artists for over four years, building strong connections and our support mean a lot for both parties. It has been decided that 100% profit goes towards our beloved artists and the campaign is still up and running, we express full support and solidarity to the people of Ukraine. Tanya is also featured in an insightful interview, conducted, and posted by Hue&Eye.
In mid-March another successful exhibition took place in Warsaw, Poland featuring a solo, brilliant artist Lidia Lesiecka. It was a special event as it is Lidia's country of origin and was available till the end of April. Her painting style is mainly expressionism or abstract style, and she makes use of bright colors and various techniques to display her emotions on the canvas. She also adds synthetic gold, similar to what was used in Andreas 24K Feelings collection, to depict the "light of energy" for a nice creative touch.

This year, Victory Art is delving deeper into the world of digital art and claiming a spot in the renowned metaverse. With the launch of an NFT Collection featuring artworks from Andrea Ehret, Lucie Drilkova. Additionally, an online exhibition with 15 different talented artists with various artistic styles and more than 50 artworks. The exhibition is just the start of connecting with a much wider audience due to the convenience of remote events and the endless possibilities that the technological advancements in art have presented to artists and the art industry.

CHECK OUT OUR BEST BLOGS