Anjela Kachik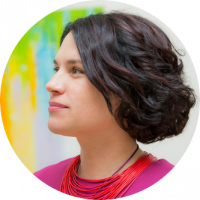 Born in Kyiv in 1974 and graduated from the Ukrainian Academy of Fine Arts and Architecture in 1999.
Working techniques-etching, lithography, and painting acrylic on canvas.
Has participated in local and international exhibitions:
- Gallery "Neuf" 1997,
- "Mystets" 1999,2017,
- Smartville 2016,
- "The Diplomatic collection of painting" (2016-2017 the Diplomatic Academy of Ukraine)
- "Creating from the invisible" (2016. Kyiv-Mohyla Academy)
- "Ukrainian Art Week" (2017.2018.Artist's house)
- International exhibition in Venice (2017.Art studio Loreta Larkin)
Worked as a primer in the Ukrainian and Russian language published "Education".
Works sold to private collectors in Ukraine, Germany, Italy, France, Canada, England, Spain, Russia, and Japan.
If you would like to get to know Anjela more and discuss her work, send us a quick email at viktoria@victoryart.eu and we will schedule a video call for you!
Anjela Kachik is present in these categories:
Want to see how the art piece looks like at your home → Rent it first
Every art piece is coming with a Certificate of authenticity
Buy now pay later → Check payment plans
14 day return policy → Money-back guarantee
Do you have any questions → Contact us
We accept these forms of payments: Visa, Visa Electron, Mastercard, Mastercard Electron, Maestro, Visa Checkout, Masterpass
Are you interested in an art piece specially created for you → Check commission artworks