Enikő Kramcsák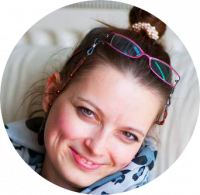 I am Enikő from Biatorbágy, Hungary. I am an illustrator, pattern designer, and mixed media artist.

My artistic soul which has lived in me since childhood has always been inspired by nature, colors, and patterns. I always had have an extraordinary source of inspiration from art deco and art nouveau architecture, also from bohemian vintage interiors and the whimsical atmosphere of street views and cafes.
After my studies in fashion design, I was greatly impressed by my experience as an assistant costume designer which made me fall in love with the magical diversity of textures and patterns.
I started to paint more seriously from 2012 – next to my full-time job at that time - although I had smaller appearances already in a local magazine, yearbook and have had a group exhibition with my art teachers. But since 2012 I have started to take it seriously and to focus on exploiting my artistic desire.
Then I entered the field of design and from the fall of 2017 I started learning surface pattern design so, therefore, my artworks could turn into useful products and bring even more drops of magic to people's homes. The most important acknowledgment in my artist life that people like my style and the way how I express my soul when I create an illustration, paint a mixed media painting, or design a pattern for fabrics.
In my artistic process, I use a variety of tools and techniques to achieve a unique atmosphere and special effects/surfaces. I like to combine different traditional techniques with each other- mainly watercolor, collage, and graphics, recently mixed media. The deep color effect of watercolor, the structure of the collage/mixed media, and the sophistication of the line drawings add together complexity to my artworks and designs.
I am so glad that with the diverse use of my artworks - thankfully for the modern print technologies - I can fill with more beauty and happiness in people's everyday life.
Are you interested in a commission artwork made by Enikő just for you?

Enikő Kramcsák is present in these categories: