Jakub Nìmèovský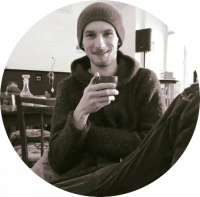 I am an artist who never attended art or was even a part of an artistic club. In fact, between 2012-2017 I was pursuing my Master's degree in Material Engineering. However, during this time in college that I came to see art as a possible life choice and grew more motivated to create and eventually show my work to the world. I have to admit, in the beginning, the work was very demanding Because I had missed out on the basics, my technique was not as polished as I would like. So I decided to start with graffiti, a more relaxed form of art. I eventually moved onto watercolors, acrylic colors, ink and finally graphite pencil. I have also tested out other mediums. In 2016, In joined the Maringota open-air festival organizing team where I helped create LED sculptures as a visual additive.
Currently, I use a liquid acrylic painting technique, graphite pencil, and watercolor on a large scale of canvas and focus on materializing my thoughts and feelings so the final work can force people to think. People often think fantasy fuels an artist into action. In my experience, that is wrong - people inspire you, your fantasy is just a useful tool for how to materialize them.
If you would like to get to know Jakub more and discuss his work, send us a quick email at viktoria@victoryart.eu and we will schedule a video call for you!
Jakub Nìmèovský is present in these categories: