Lenka Žak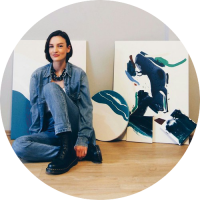 As an emerging visual artist with a focus on abstract expressionism, I use painting not only to express but also to challenge myself. My works are bold and intense representations of emotion on canvas and are greatly influenced by my current environment, as well as by my current state of mind. Whether it is the season of the year, the forest, the sea, the city that I used to know, or the feelings that emerged in me and found their way out onto the canvas. My process does not consist of painting only. At first, I take my time to closely observe the world around me with a different set of eyes and try to be as present as possible. Then when working on a piece, I'm inspired by both what I felt and what I saw and let the spontaneous
gestures take over.
I predominantly work with acrylic and moreover, instead of brushes I use atypical materials
found at those places which inspired me. These can include textiles, leaves, wood, flowers, or dry grass, but also many others.
If you would like to get to know Lenka more and discuss her work, send us a quick email at viktoria@victoryart.eu and we will schedule a video call for you!
Lenka Žak is present in these categories: