Lenka Žák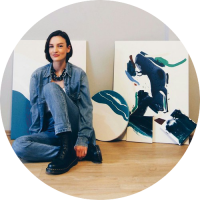 Hi there. I'm a self-taught artist, freelance content creator, and copywriter from Slovakia based in Prague, Czech Republic. Always looking for new ways to express my creativity, I spend every day creating to please the eye, soul or mind. I'm happy to present several pieces from my Fluid collection via Victory art:
I was drawn to the sea ever since I can remember. Every summer when I was a child I spent literally every day in the water. Even when all the other children went back to the beach/or to the house, I was still in the water, doing my thing. I remember I used to run away and go to the sea and jump into the waves when my parents told me I can't go anymore, or when the storm was approaching and the waves got pretty big. I was still at the beach having the time of my life. It's no surprise that ever since I tried surfing I was hooked completely. Undeniably my relationship with the seasides was one of the biggest reasons why I and my husband decided to move to Portugal. While living there, the breathtaking beauty of this country, cliffs, long beaches with beige sand, clear water, breaking waves and the times spend at the beach hanging out with friends, exploring, playing with our dogs or surfing on empty line-up really early in the morning or while the sun was setting inspired me so much that I decided to take on painting more seriously and create oceanside inspired artworks. And to capture the essence of this beautiful nature and life by the ocean, a fluid painting was my number one choice. Each artwork has a place in my heart. Even though I live in Prague now and travel to Oceanside destinations only every few months, all I need to do is look at the pieces from Fluid collection and I can feel that salty ocean breeze once again.
If you would like to get to know Lenka more and discuss her work, send us a quick email at viktoria@victoryart.eu and we will schedule a video call for you!
Lenka Žák is present in these categories: