Lilo Schubert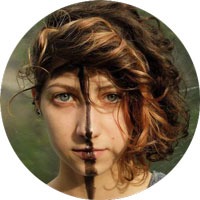 My connection with art has started at a very early age, though I only committed to creating myself, later on. I've been always passionately interested in art in any form also tried various mediums I can express myself (eg.: dance, drama, animation, digital and analog technics in visual art). Hopefully, my expedition on this journey is far not over.

Since childhood, I was curious about ancient cultures and their mythology so after graduating from high school I began my studies of art history as a university student. At this time, I had no confidence in believing in myself as an artist, but a couple of years later I have gained enough strength to attend a private art school where I had earned my degree in animation major.
This point was crucial as my creativity started to blossom here and my thirst for knowledge and experience has grown with me. I realized that I find comfort in painting the most.
At first, I found liberating that I can channel my feelings into something without having to put it in words that I wasn't capable of. This way I started to explore my subconscious self and got in touch with my repressed emotions. I knew this was the beginning of my healing process and painting is my therapy, a sip of water in the desert of meaninglessness, my retreat from constant crippling anxiety. Random shapes and forms have always been fuel for my imagination, partly because I think the aesthetics of nature or any form created naturally by accident is perfect. And partly because they give space for my mind's eye to wander. My pictures are often a chain of the association on a canvas, reflecting my stories.
As time has passed art has become not only a way of communication with my inner world and intuition but also a connection with the world outside me. Making collages was hugely helpful with my process. It has introduced me to a new perspective on creating. I started to develop interpreting my thoughts in a different way, building up my compositions around something very specific. This was affecting my style in painting as well, exploring the more rational less emotional, I got involved composing with more realistic figures using them as symbols. Abstraction happens in my mind, the synthesis arrives on the canvas. My aim now is to merge the abstract style, that comes from my intuition, with definite graphic elements synthesized from my rational understanding in the form of a visible story.
Are you interested in a commission artwork made by Lilo just for you?

Lilo Schubert is present in these categories: