4 REASONS WHY YOU SHOULD INCLUDE FINE ARTS IN YOUR OFFICE
Art helps create a more stimulating work environment

Fine art encourages discussion and stimulates imagination, creativity, and intellect. As a result, it can be an integral tool to encourage motivated and productive employees. The physical environment inevitably impacts employees, especially if they have to spend around 40 hours a week in that space. Find out more about stimulating work environments here.
Art compliments and strengthens your brand

Art is a useful tool that helps companies differentiate from each other and communicate their own unique characteristics to their employees, clients, and the general public. The office design and businesses can be personalized with the right fine art pieces. Find out more about art and brandinghere.
Better Sense of Community with a better office interior

Art can not only help engage with your company's existing employees but also the clients and the community you serve. Fine Art is an indispensable tool for communication and, when done right, can help you build a better establishment. Find out more about art and its influences on the employee's wellbeinghere.
Tax Advantages
Art is an investment opportunity. Not only do businesses benefit from buying art, but you could also be investing in one of the most valuable artworks of tomorrow. Find out more about how to do it here.
Want to know more? Let's work together.

ART TALK: BEHIND THE ART
We heard you've been missing events and exhibitions, so we partnered with Roomkey to bring back "in-person" gatherings!
On the 8th of July, we will host our third event with iZZi iZVNE! He has been on an inspiring journey of innovating the process of creating art with inspirational stories. Take a look at her collection, and then join us for a conversation!
Join us on the 8th of July at 19:30 CET on the Roomkey platform to meet iZZi and enjoy the new ArtTalk event experience! Free tickets can be secured here:
"I try to show how deep and colorful can be the reality inside the wall, how limitless can be cosmos above us, how unusual can be the world inside every inconspicuous person, whom we meet in the streets every day."
iZZY iZVNE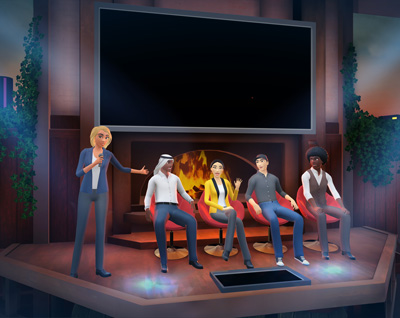 In collaboration with Roomkey, Victory Art has launched a new series of online events called "ArtTalk: Behind the Art", which will take place twice a month and host some of our most admired artists. This events series is dedicated to all art lovers looking to get exclusive insights into our artists' journey, their inspirations, and more details about their art and outlooks into the Eastern European art market!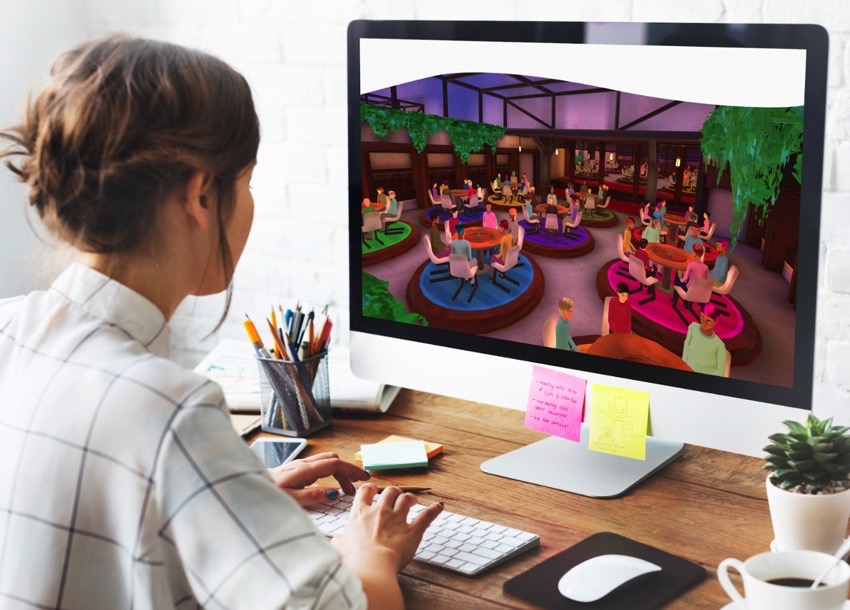 We also wanted to break away from the boring video format and to allow you to meet all attendees and speakers "in person". To do so, the events will take place on the innovative Roomkey platform, where you will be represented by your avatar and will be able to walk around the venue and sit at the table together with the other attendees, listening to our guest artists on the stage!
What will you learn
To provide the artists with the tools and knowledge that are necessary to get started with their own practice, several art seminars with various topics will be provided. he seminars will always take place at 19:00 Central European Time (GMT+1). Add it to your agenda here.
08.03.2022: Importance of Sustainability

By considering sustainability, you are not only protecting other human beings, but you also help improve the quality of life and the ecosystem. Besides the great impact on our planet, working more sustainably could attract potential customers that also value sustainability. Join this seminar to learn how important this matter is and what you can do!

17.03.2022: Technology in the Art Market and its Benefits

Technology has played a vital role in supporting artists during the pandemic, therefore, we want to tell you everything you should know about the art industry and technology, as this can have a great impact on developing your career.
FAQs
Can I return an art piece?

After delivery, you have 14 days to return the art piece for a full refund.
Can I rent an art piece?

Yes. You can find more information here.
How can I track my order?

When your order ships, We will send you the tracking e-mail.