Bence Toth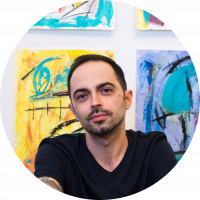 | | The environment where I grew up was surrounded by countless people who were talented but never capitalized on their abilities. They did not dare or could not face the difficulties, so they preferred to live their lives by giving up their dreams, choosing mediocrity. I've sensed this sorrow in my early years, so I decided I would achieve my greatest potential and live a life I really love. So I strived to get better at what I do at that time. My first passion was sporting, then playing music, finally the visual arts. That caused me the biggest joy I was looking for. |
| --- | --- |
In the beginning, I did art just to spend my free time, after a while I realized it is much more than a simple hobby. It set me free and helped me to shape my character, who I've really wanted to become. That meant the way out for me. Nevertheless, countless postings and restarts have determined my years after that. After a long period of uncertainty and walking on many side roads, I ended up in my mid-twenties again only with the fine arts.
That's when I started training myself, first going to an elderly painter, then enrolling in a drawing and painting course, and finally finishing my illustration major. Then in 2021, I became a full-time artist.
My path was very winding, I worked in countless areas and many times I pushed art into the background or even gave it up altogether. Life then always led me back to art when I got too far away from it and also brought many people into my life who wouldn't let me waste my talent.
Art kept confronting me, the fears, doubts swirling inside me and maybe that's why it was hard for me to accept my work and see the beauty in it. Over time, as I became more and more familiar with and started to like myself, my work also became more authentic. My personality and my identity were formed and all this started to be reflected in my work.
Ever since I have been confronting myself regularly while creating, many times I still get caught up in old stifling feelings, but I have learned to accept and live with who I am.
Through my images, I also want to encourage people to dare to face themselves and take on the emotions inherent in them.
Are you interested in a commission artwork made by Bence just for you?

Bence Toth is present in these categories: