Bence Toth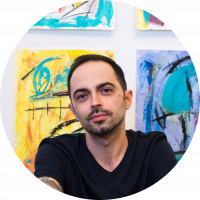 | | The environment where I grew up was surrounded by countless people who were talented but never capitalized on their abilities. They did not dare or could not face the difficulties, so they preferred to live their lives by giving up their dreams, choosing mediocrity. I've sensed this sorrow in my early years, so I decided I would achieve my greatest potential and live a life I really love. So I strived to get better at what I do at that time. My first passion was sporting, then playing music, finally the visual arts. That caused me the biggest joy I was looking for. |
| --- | --- |
In the beginning, I created artwork just to spend my free time. After a while, I realized that it meant more to me than a simple hobby. It set me free and helped me shape my character into who I really wanted to become. Despite my passion, it was not easy to establish myself as an artist. I experimented with different art styles and mediums, requiring me to restart countless times. After a long period of uncertainty and struggles, I decided to focus on fine arts in my mid-twenties.
That's when I started training myself, first going to an elderly painter, then enrolling in a drawing and painting course, then finally finishing my illustration major. Finally, in 2021, I became a full-time artist.
It was not an easy process. I worked in countless different side jobs which made me not be able to focus on art as much. However, life then always led me back to art and brought many people into my life who recognized my talent.
Art kept confronting me with my fears and doubts swirling inside me, and maybe that is why is was difficult for me to accept my work and see the beauty in it. As I became more and more familiar my myself and started to accept myself as who I am, my work also became more authentic. My personality and identity were slowly forming, as this is reflected in my artwork.
Although from time to time I am still caught up in my old, stifling self, I have learned to accept and live as who I am.
Through my artwork, I also want to encourage people to face themselves and realize their emotions in them.
Are you interested in a commission artwork made by Bence just for you?

Bence Toth is present in these categories: