Edina Soós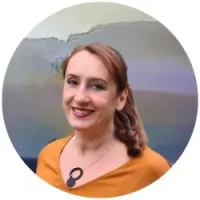 My artworks are characterized by a versatile use of imagery, textures, layers, and mark-making. Spontaneity is a key factor that accompanies my creative vision. I play with my sense of composition, design, and contrast to convey a remarkable sense of balance and harmony.

Since my young age, I've been waiting for the chance to devote more time to art, and seven years ago I finally got the chance to realize my dream. I loved to draw and paint from a very young age, and my art teacher at primary school noticed me and suggested to train myself.
A constant theme of my paintings is evolution and birth, whether it is the genesis of the universe, the origin of life or the evolvement of a human being. I have a very strong desire to know the origin and I am preoccupied with questions about motherhood. This focus also stems from my subconscious contents emerging during creation, from which I have developed a deeper self-awareness.
I pursued graphic studies at the Graphic Arts Course in Pápa and at Huber István Dési Art School in Budapest, then I visited the Painting Department of Buda Art School for 3 years. I constantly broaden my theoretic and technical knowledge, among others at the Open University of the University of Visual Arts of Hungary, as well as at the online courses of The Museum of Modern Art, NY.
In the past few years, I have developed my own painting routine. My art balances the borderline between figurative and abstract modes of representation, it means balancing between concealment and revelation. I follow a process-driven creative method, where the subject is not the primary focus. There is a strong emphasis on spontaneity, exploration, and varied use of material. Forms evolve intuitively on the canvas, emerging from my subconscious. In the later stages of the creative process, of course, conscious form-making also plays a role. My paintings evoke associations of evolution and birth, whether it is the genesis of the universe, the origin of life, or the evolvement of a human being.
Are you interested in a commission artwork made by Edina just for you?

Edina Soós is present in these categories: