Eliška Malárová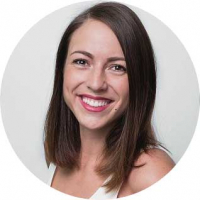 When Eliška was born in 1989 in Hodonín, her destiny has already been predetermined. It was to make others happy and give away smiles where love and understanding were missing.

With her sensibility, hand, and brush she captures on the canvas everything she feels at that moment. She is able to work sensitively and in tune with her aesthetics and various feelings. Her inspiration is her current feelings and moods, which are based on her Gemini sign. She perceives life intensively, intuitively, and fearlessly.
Those of her qualities for working with people helped Eliška to graduate with a master's degree in special education studies at Palacký University Olomouc in 2015. During her studies, she already gained several significant experiences in painting because of exhibitions and art competitions. Another important milestone was an honorable acknowledgment in Náchodská Prima season, which Eliška gained during her studies at Pedagogical High school in Boskovice.
Life is the best coach in helping us to do what we love and helps us to create our own story. Eliška was not afraid of the next challenge, therefore she now lives and creates art in Brno.
Eliška got hired for a completely different position in the area of ​​IT in 2011. By then she could not know that she would become an expert in IreSoft company. She is loyal to her company in both; her achievements and heart. Besides her newly acquired experience, Eliška feels that she needs to focus on creating something that comes out of her creative spirit, where she can carry out her ideas and feelings. She remembered her beloved easel and it was clear that she will no longer leave it behind. Perhaps, except for those moments spent with her family, husband, and friends.
It is a pure joy knowing that things in Eliška's life have worked out in such a way that she was given a gift to paint and the ability to transform it into art. No matter the challenges or adversity, "Always smile, say thank you, and go on" would be Eliška's words addressing the two moments in our lives. Eliška always knew that the best way to be happy is to do something for it. Therefore, her paintings carry this positive energy. That is why you find all the abstractions and diversity of colours in her paintings.
Are you interested in a commission artwork made by Eliška just for you?

Eliška Malárová is present in these categories: