Summer Curation
Following the rejuvenating power of spring, the summer season is unraveling with warming energy before our eyes.

...

The sky is clear and we are slowly crawling out of our indoors to relish the lively sunshine to the fullest again. In light of this, it is time to cherish the arrival of this beautiful season and spoil ourselves a little bit more with some of the stunning and vividly coloured pieces of our artists. Enjoy!
Explore our Summer collection! Stuck inside during those hot summer days? Let us bring you a bit of that warm, sunny, and lazy atmosphere into your home! Here is our top selection that will freshen up your furnishings.
This Summer, we prepared a collection of artworks of various sizes, colors, and techniques, so you can pick and choose whatever your heart desires!
Refresh your interior
The "Refresh your interior" summer collection is all about vitality, sunshine, and those warm and lazy summer days. Creating a relaxing and refreshing atmosphere with lots of summery colors and moods. With this collection, Victory Art is bringing some colorful art into your decor. Whether you choose cool and exhilarating blues, opt for the careless and calm greens and yellows to add a touch of nature and sunshine, or embrace the lively and cheerful purples and pinks, you will refresher and add some energy to your interior.
Welcome the coolness
Enjoy the tribute to the feeling of being surrounded by cool and refreshing water on a hot summer day - there is no better pleasure in the world. This curation is inspired by beach trips, hiking vacations, the delight of swimming in water on a warm summer afternoon and enjoying the simple pleasures of life.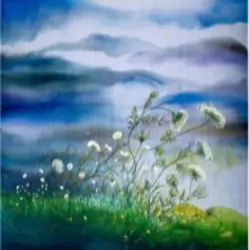 Cool things down with the selection of lighter shades that will make your space fresh and serene. In this collection, you can find artworks that are guaranteed to lighten up any room with their vibrant colors.
EMBRACE GREENERY
This summer, surround yourself with greenery and nature - when you're stuck inside, why not do so with your decor? To capture the essence of vitality and calmness brought by nature, we have chosen these artworks. On those hot summer days, what better things to do they embrace the green landscapes and take a moment to let all of your worries go - accept the laziness and allow yourself to relax.
LET IN SHINE
Summertime is about sunshine and relaxation. We wanted to bring into your homes the atmosphere of warmth and delight, you experience when you are in the sun. This curation was inspired by the pleasure you get from feeling the sunshine on your skin - heat traveling through your body, energizing every cell. Pure bliss
FEEL THE CREATIVITY
Summer months are not a time of vacation and relaxation for everyone. A lot of people still work and create during the summertime. This collection was inspired by those who let their imagination and creativity flow in the summer. Bring some pinks and purples into your interior to add a serene and calming feel that will boost your imagination and uplift your spirit!
If you are stuck inside this summer, why not bring summer into your home? Artworks that have been influenced by nature are beautiful and simply refreshing.
DO YOU NEED MORE INSPIRATION?
| Discover style ideas in our blog | Discover tips on decorating with Art | Surprise someone with a... |
| --- | --- | --- |