Igor Lakić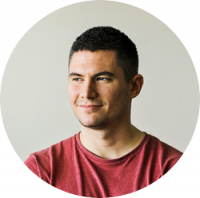 | | Even though his interest in art and his need to create lasted from an early age, his decision to graduate from the Academy of Arts came much later. His love for art began withdrawing, mainly the human figure and figurative art in general which he studied for a long time then. Later, having been influenced by underground culture, he started to do graffiti on the streets of Belgrade, because he was intrigued by the idea that street art was considered unacceptable at the time, as well as being risky. |
| --- | --- |
Only at the age of 27 did he decide to enroll in the Faculty of Fine Arts, specifically the Ceramics department, with which he had had no contact before. This didn't stop him from falling in love with clay and successfully finishing his studies with various accolades. Nowadays, he is mostly engaged in abstract painting, illustration, and writing. As someone who gladly dismisses generally accepted ideas, his art is dedicated to studying the cultural factors of life's phenomena and life itself, with a focus on different ways of construction, display, and interpretation, as well as form, personal experiences of reality in which the absurd is of special significance and the main inspiration.
Are you interested in a commission artwork made by Igor just for you?

Igor Lakić is present in these categories:
---
Need more help?
| Certificate of authenticity | 14 days money back return policy | Safe checkout guaranteed | |
| --- | --- | --- | --- |