Julia Gorbunova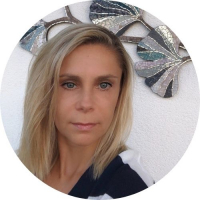 I am a contemporary mosaic artist living and working in Moscow, Russia. For more than 15 years I am engaged in the decoration of private and public interiors and collaborate with designers and interior stylists.

I create wall panels, sculptures and art pieces, decorate restaurants and working spaces with mosaics artworks. Mosaic is the love of my life. Since I tried to work and arrange these multi-colored pieces of glass I cannot imagine my life without what I love.
Despite the fact that the history of mosaic goes back more than one century, nowadays it is experiencing its renaissance. Modern mosaic artworks completely change our understanding of this ancient art, the material reveals itself from a new side and sounds ultra-modern.
I create works in contemporary style and mainly work on a commission basis, complementing the interior with art objects. I really like to experiment, look for new combinations and shapes. I use stone, glass, cement, gold leaf, I go beyond the classical reading of the material. My recognizable signature style is natural subjects made by inlaying thin pieces of gold and silver glass.
Mosaic is not only the facades of buildings or the decoration of pools and bathrooms. I want to show that artworks in this fine craft technique are appropriate in modern and classic homes, they become a decoration, and sometimes an aesthetic dominant of the interior.
In the era of mass production, unique pieces of art are becoming more and more popular with people who appreciate the exclusivity of handicraft. Mosaic is my true passion! I want people to own art pieces that are not only beautiful but also valuable and their value increases over time.
Education:
2004-2005: British Higher School of Art & Design, Moscow, Russia
1998-2004: Stroganov Art Academy - Private art lessons, Moscow, Russia
1995-2000: RANEPA (The Russian Presidential Academy of National Economy and Public Administration), Moscow, Russia
Group Exhibitions:
07/2021: ArtDom Expodesign, Moscow, Russia
10/2020: Commune Shop and Gallery, Moscow, Russia
11/2019: Central Cultural Center, Moscow, Russia
02/2018: Romanov Dvor Gallery, Moscow, Russia
05/2017: Saint Ferrain Castle, Figueres, Spain
05/2017: Cultural Center, Moscow, Russia
07/2016: Central House of Artists, Moscow, Russia
02/2016: Dive Sokolniki, Moscow, Russia
01/2016: Central House of Artists, Moscow, Russia
12/2015: Central House of Artists, Moscow, Russia
Commissions:
2015-2021: 100+ mosaic artworks commissioned in Russia
Cities: Moscow, St.Petersburg, Blagoveschensk, Ufa, Chita, Vladikavkaz, Irkutsk, Sochi, Perm & Sakhalin island
Artworks in private collections:
Russia
Tallin, Estonia
London, UK
Bourge, France
Montpellier, France
Zurich, Switzerland
San Francisco, USA
Bonson, USA
Are you interested in a commission artwork made by Julia just for you?

Julia Gorbunova is present in these categories:
---
Need more help?
| Certificate of authenticity | 14 days money back return policy | Safe checkout guaranteed | |
| --- | --- | --- | --- |