Katerina Pyatakova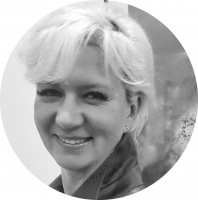 Katerina P. was born in Kyiv, Ukraine on June 26, 1977. Katerina is an artist and a member of the National Union of Artists of Ukraine, Journeyer Member of the Pastel Guild of Europe, laureate, and winner of many exhibitions and contests.

Katerina Pyatakova`s artworks are in private collections in Ukraine, the USA, Europe, Australia, and Russia. Covers of poetry books in the USA and New Zealand are decorated with artworks by Katerina Pyatakova, as well as artworks of the artist are used as illustrations of fine arts textbooks.
She has more than 50 collective and personal exhibitions. Katerina Pyatakova was represented at TOP100 of the best artists from 42 countries of the world at the PALETAFEST International Festival in Croatia. She also wrote artwork at the VI International Biennale of Pastels in Poland and artwork at the International Biennial of Arts in Rome, Italy.
Katerina Pyatakova is the author of more than 100 classes of Art History for children, drawing, and painting lessons. She also works as a volunteer teacher at the Center for Social and Psychological Rehabilitation for more than 8 years. She has the Honorary Award for Social Work. Katerina Pyatakova is also a co-founder of the social volunteer project "My Talent to You, Ukraine!" which was created to support artists with disabilities.
Overall, Katerina has participated in 22 exhibitions, 13 of which were held in Ukraine and others in countries like Greece, Germany, Italy, Tunisia, Poland, Croatia, and Australia.
"I believe that there should be as many different trends in art as possible. Life is too multifaceted and emotional. I see my role in conveying to the viewer my inner joy and enjoyment by the fact of existence. I want people to break away from the problems and look at the sky, the sun, the waves, and each other. I have a company conviction that art is inextricably linked with the emotional state of people and it can be reflected through depicting the state of the elements and the phenomena of nature. I work with pastels and I find and use different materials, textures with it for deep emotional effects. Every artwork has its own history and its own emotional aspect. I feel the problem of contemporary people who stay very far from nature. I create my works to draw people's attention to the miracle of existence and the beauty of nature "
Are you interested in a commission artwork made by Katerina just for you?

Katerina Pyatakova is present in these categories:
Need more help?
| Certificate of Authenticity | 14 days money back return policy | Safe checkout guaranteed | |
| --- | --- | --- | --- |