Konstantin Khlanta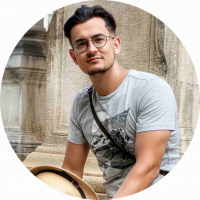 I have been painting since 2008, but my hobby has never been taken seriously by my loved ones. Most of the time I create portraits. The more I heard that I was doing "the wrong thing", the more detailed and realistic I became about faces. That's how my hobby became a passion.

I am a dentist by profession. I don't have a formal art education, but I dedicate all my free time to it every day. Thanks to my medical training I have an excellent knowledge of anatomy, which helps me in my work.
I left medicine in 2020 to devote myself to the art.

I worked with different mediums: graphite, pastel, acrylic, and in 2018 I discovered string-art. This is a very labor-intensive technique, it takes me from a couple of weeks up to several months to create a picture. Nails are hammered into a wooden base and an image is created using threads. Normally people create simple illustrations or intricate geometric designs in this technique, but I do portraits. I do not use algorithms or other computer programs, I try to place threads as chaotically as possible (although people think there is some kind of system in that). I also often combine different techniques and materials, like bent nails and acrylic paint.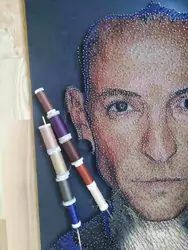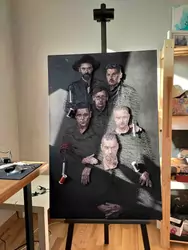 My goal is to represent the dynamics and energy of a person, to feel his emotions and to reveal them. That's why rock musicians appear in my paintings more often than others.
I haven't ever had any big exhibitions in my life because most of the time I've been working for commissions. I've already created more than a hundred of different faces made of thread and nails, and I don't wanna stop.
Are you interested in a commission artwork made by Konstantin just for you?

Konstantin Khlanta is present in these categories:
---
Need more help?
| Certificate of authenticity | 14 days money back return policy | Safe checkout guaranteed | |
| --- | --- | --- | --- |