Laura Hanganu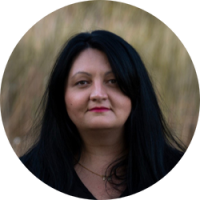 Ever since I could remember I was always fascinated by the beauty around me, a landscape, a dress or a painting was always capturing my attention and making me connect to an inner desire to create.

Born in Romania, I spent my adolescent year in Italy and graduated in biomedical although I always knew that was not my path to follow. As I moved to the Czech Republic, very proud of my new rented apartment, I decided to make some paintings for my wall. The first of many! It was love at first touch of the canvas, first stroke and It felt like it was part of my essence for a long time.
Pushed by the necessity of expressing my most intimate feelings and emotions as a new mother, in a foreign country at the beginning of the Covid restrictions, I turned my attention to nature as my main source of inspiration. With a continuous study of the textures, various materials and deep introspection, gloomy and stormy landscapes were born. Clouds, darkness and turbulent seas to give a romantic view on nature and human experience, to admire the beauty in the fierce nature, to admire the beauty in the suffering of the human soul.
But the storm of the soul is destined to pass as the storm in nature and my landscapes turned into bright, more structured abstract paintings inspired to the stars, to the galaxies and the universe, as I turn look to the a higher level of inspiration, a search for the divine, the sublime, the eternal.
Are you interested in a commission artwork made by Laura just for you?

Laura Hanganu is present in these categories: