Marián Čižmárik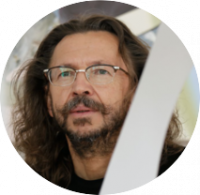 I am a painter, graphic artist, illustrator, and creator of fine arts and art objects. I am curretly living and working in Poprad, Slovakia. Being born right under the highest mountain range in Slovakia, the High Tatras, My work is influenced by my real-world upbringing in a beautiful country, its folklore, and culture, as well as spiritual and mystical elements that were hidden in the world around me.

My ideas and inspirations usually come from the deep genesis of humanity, traditions, as well as nature. Traditions not only from the Slovak culture but also from the entire cultural history of mankind.
Aesthetics and human values all play an important role in all of my creations. I have also been very inspired by the sky and cosmos, which I always perceived as something magical and yet influential in so many ways that are impossible to fully understand or grasp. That's why in a lot of my artwork you can find elements of the universe, cosmic connection, and its alignment with humans.
I started my work in the field of applied and fine art in Poprad, later as a member of the implementation team at the Slovak National Theater in Bratislava. Here I became engaged in producing a lot of theater sets and scenography, which led to work with several other theater companies. Later I became engaged in the creation of objects made of metal and wood for interiors and exteriors, stained glass, and other transdisciplinary activities.

He prepared interior realizations in the Slovak Olympic houses and during the candidacy of Slovakia for the Winter Olympics and many other projects in Slovakia and abroad. He is the author of six stained glass windows in the Gothic Church of St. George in Poprad. Marián Čižmárik also works creatively in the field of poetry, theater, music, and performance, which blends with artistic creation. He also illustrated bundled collections of poems by Slovak poet V. Vaľek Široká (1997), Tunnel (2002), Fast Eye Movement (2008). Author exhibitions (selection): Poprad 1991, 2007, 2008, 2010, Spišská Nová Ves 2013, Liptovský Mikuláš 2014.
Exhibitions and realizations abroad:
- Sydney 1991, Nagano 1998,
- Seoul 1999,
- Salt Lake City 2002,
- Monaco 2005,
- Zakopane 2008,
- Bordeaux 2008,
- Barsac 2009 and others.
Are you interested in a commission artwork made by Marián just for you?

Marián Čižmárik is present in these categories:
Need more help?
| Certificate of Authenticity | 14 days money back return policy | Safe checkout guaranteed | |
| --- | --- | --- | --- |