Martin Kovalík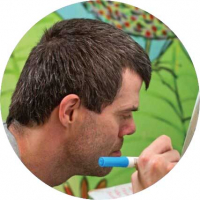 Martin arrived at Maják with auditory and visual impairment, because of which he can only hear white noise and suffers from extremely blurry vision. Such difficulties render nonverbal communication a struggle for him. To make things worse, he is also unable to move his hands and knees properly, making it difficult to independently engage in everyday activities.

Regardless, Martin maintains his dry sense of humor, often using it to make jokes rendering his peers and caretakers dumbfounded. He can also be seen cooking and spending time feeding and playing with cats, which he considers his friends. An intelligent person, he loves to write, through which he possesses a wide range of vocabulary.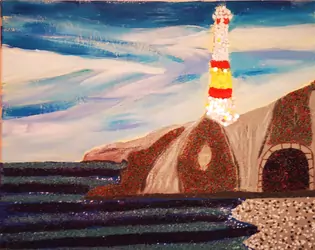 However, nothing interests him more than the ultimate intellectual game: chess. He also gleefully participates in traveling, talking to a lot of people, and doing home chores. Disheartened by the abandonment and abuse Martin has experienced throughout his life, Martin often ponders over his existence: asking important questions others may not be so ready to.
Are you interested in a commission artwork made by Maják just for you?

Martin Kovalík is present in these categories:
Need more help?
| Certificate of Authenticity | 14 days money back return policy | Safe checkout guaranteed | |
| --- | --- | --- | --- |