Natalia Tabimory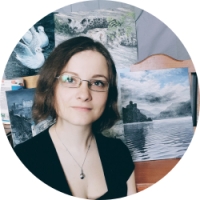 | | As a child, I went to the children's art school for 2 years in the city of Krasnoyarsk. then I entered the Surikov Art School and studied there for 3 years. I entered the Institute of Architecture and studied for a 4.5 year Bachelor of Architecture and Urban Planning at the Siberian Federal University, after which I did my Master's degree. When I graduated from the university, I moved and painted independently and under the leadership of the artist Yury Vasilyevich Zater. I create landscapes, portraits, and artworks of animals. |
| --- | --- |
I prepared landscape works for the Brodsky Gallery and we planned an exhibition there for June 2022, but the war broke out. After I had to leave Berdyansk, I moved to the city of Uman. Here I made contact with the Czech Original Gallery, in cooperation with which I sold several works. Landscaping received the most response, which I'm going to focus on.
Are you interested in a commission artwork made by Natalia just for you?

Natalia Tabimory is present in these categories:
Need more help?
| Certificate of Authenticity | 14 days money back return policy | Safe checkout guaranteed | |
| --- | --- | --- | --- |