Olga Chajmova Holcova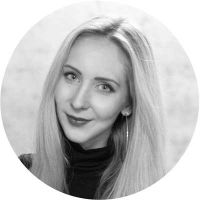 I love to express myself through paintings. I put positive energy to every single painting. When start to painting, I forget all my worries. Painting transport me to a place where there is only me and the canvas.

At this moment, I not only enjoy my personal life but also my professional career as a painter. My goal is to capture joy and good vibes in my painting so that the positive energy radiates to the viewers. I am sure that anyone who sees my painting would be delighted.
The combination of vibrant colors and geometric structure reflects such positivity. Using warm bright colors in contrast to cool colors, my paintings has a free and liberating style.
A couple of years ago, I worked in an office. However, with my bohemian soul of mine, it was not satisfying to spend the whole day doing paperwork. The passion for painting was always there in me, but it was not easy to start. Then, when my two kids were born, I realized that I could not teach them to follow their dreams when I myself was not following my own. This inspired me to finally recognize my passion and start creating my artwork.
Are you interested in a commission artwork made by Olga just for you?

Olga Chajmova Holcova is present in these categories:
Need more help?
| Certificate of Authenticity | 14 days money back return policy | Safe checkout guaranteed | |
| --- | --- | --- | --- |