Olga Chajmova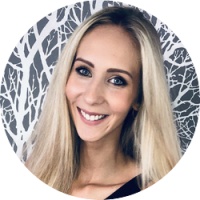 I love to express myself through paintings! Every single piece has positive energy I put into because when I'm starting to paint, I forget all my worries. There is only me and the canvas!
A couple of years ago I worked in an office but with the bohemian soul that I have, it was not satisfying to me at all to do paperwork. The passion for painting was always there but a part of me was scared to start. Then my two kids were born and I realized how I was supposed to teach them to follow their dreams even if I´m not following my own. And this is where my artwork started. At this moment I enjoy my life not only in a personal way but also in a professional way! I am sure you can feel that joy and good vibes from my paintings too! Just enjoy it!
If you would like to get to know Olga more and discuss her work, send us a quick email at viktoria@victoryart.eu and we will schedule a video call for you!
Olga Chajmova is present in these categories: