Sarolta Bárándi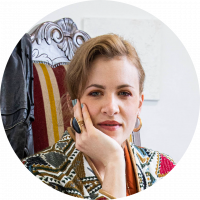 | | I have been interested in art since I was a child, I danced, I love good music and well ... I became a fine artist. My primary school was also an art institution, my drawing teacher there dealt with me separately. Once again, I want to thank him for caring about my talent and honoring him with the skill with which he has kept my often swaying attention. After that there was a little omission, I was an elite athlete, but my hobby was still painting and drawing. However, I studied art and visual representation at university again. It was a class where we learned all the imaging techniques and maybe that's when it became my big favorite and I started taking collage making more seriously. |
| --- | --- |

My passion has been going on ever since, but I am also interested in installation and mixed media. I am often inspired by other artists, but I look for the right answer to those questions primarily by examining moods, feelings, and difficult-to-define phenomena. Maybe this attitude comes from writing or speaking very poorly. I'm not dyslexic or similar, I simply find myself expressing myself more easily with a gesture, for example, I find it much more authentic and self-identifying.
Exhibitions:
Group exhibition, Graduate exhibition 2017: Metropolitan Univesity, Budapest
Group exhibition, Assembly 2020: Lost and found space, Rotterdam
Group online exhibition, Quarantine 2020: Divulgarti
Solo exhibition, No more hiding 2021: Art9 Gallery, Budapest
Are you interested in a commission artwork made by Sarolta just for you?

Sarolta Bárándi is present in these categories:
---
Need more help?
| Certificate of authenticity | 14 days money back return policy | Safe checkout guaranteed | |
| --- | --- | --- | --- |