Tanya Rajkovic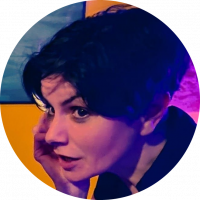 | | I have been drawing and painting since I was a child, and I have developed that passion throughout my education. In my paintings, I try to capture the spirit of time and sketch of accelerated changes that are going on in modern society. As I move on from one subject to another, I always try to evolve my artmaking process. |
| --- | --- |
I create my paintings following traditional realism with recognizable elements symbolic of modern pop culture and society. I juxtapose themes that are not so bright with bright colors. Human figures represented in my artwork are symbolic. They are set in unexpected situations and landscapes, leaving the observers to make their own interpretations of the relationship between the human figures and the setting they are placed in.
Education:
2000: Graduated at College of Fine and Applied Arts in Belgrade
2005: Graduated at Academy of Fine Arts (ALU) in Belgrade
Group Exhibitions:
2022: Gallery "Div", Belgrade
2021: SyArt festival "Fondazione Sorrento", Sorrento
2020: Gallery ""Athene", Drammen
2020: Gallery "District 4 Art", Vienna
2014: "Dom Omladine Beograda", Belgrade
2005: Gallery "Progres", Belgrade
2004: "Gallery of Heritage Museum Petrovac"
Solo Exhibitions:
2022: "Art for All" Gallery, Belgrade
2019: "AU" Gallery, Vienna
2016: "Beti Ford" Caffe Gallery
2011: Theatre Club "Trema" at Serbian National Theatre, Novi Sad
2010: Theatre Gallery "Zeleno Zvono", Zrenjanin
2009: American Embassy's Gallery, Belgrade
Are you interested in a commission artwork made by Tanya just for you?

Tanya Rajkovic is present in these categories:
Need more help?
| Certificate of Authenticity | 14 days money back return policy | Safe checkout guaranteed | |
| --- | --- | --- | --- |