Tanya Rajkovic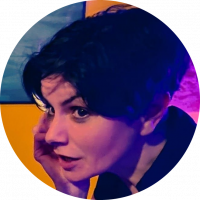 | | I have been drawing and painting since my childhood, and later developed that passion through my formal education. On my paintings I try to capture spirit of time, like material evidence and the rough sketch of accelerated changes that are going on in modern society. Process is evolving as I move from one subject to another, always trying to keep strong bond between color and the drawing. |
| --- | --- |
Paintings are created following the tradition of realism with recognizable elements of pop culture and modern society. Bright colors as opposite to the not so bright content. Human figures are symbolic, set - in unexpected situations and landscapes leaving the opportunity to the eye of the observer to notice and understand their relations. All these elements are in the function of the narrative that happens on the canvas and needs to be told.
Education:
2000: Graduated at College of Fine and Applied Arts in Belgrade
2005: Graduated at Academy of Fine Arts (ALU) in Belgrade
Group Exhibitions:
2022: Gallery "Div", Belgrade
2021: SyArt festival "Fondazione Sorrento", Sorrento
2020: Gallery ""Athene", Drammen
2020: Gallery "District 4 Art", Vienna
2014: "Dom Omladine Beograda", Belgrade
2005: Gallery "Progres", Belgrade
2004: "Gallery of Heritage Museum Petrovac"
Solo Exhibitions:
2022: "Art for All" Gallery, Belgrade
2019: "AU" Gallery, Vienna
2016: "Beti Ford" Caffe Gallery
2011: Theatre Club "Trema" at Serbian National Theatre, Novi Sad
2010: Theatre Gallery "Zeleno Zvono", Zrenjanin
2009: American Embassy's Gallery, Belgrade
Are you interested in a commission artwork made by Tanya just for you?

Tanya Rajkovic is present in these categories: