Yvonne Vacha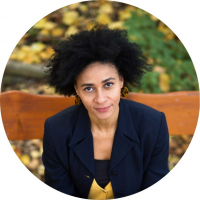 Each painting has its own story, evoking different ideas in each person - it opens up a unique, magical space. I like to let my mind wander around this landscape of my soul. It is my free, inner universe, full of contentment and joy.

I was born in the Czech Republic and I have Czech-African (Senegalese) roots. Both cultures had an impression on me and their influence is evident in my work. I work with bright colors and distinctive morphology. It best captures the state of my mind at a given moment. I often paint spontaneously, I let the subconscious express itself immediately.
"Let's move into the world of fantasy and dreams, where there is no room for worries and fears of everyday life."
"We meditate there, we find there our peace of mind, hope, and a source of harmony in life."


My latest works are painted on canvas with oil or acrylic paints, or a combination of both. I also create collages and assemblages. On my journey of self-expression with art, I gained experience in graphic design, illustration, and working for magazines. I studied at Václav Hollar's Secondary Professional School of Fine Arts and graduated from the Academy of Arts, Architecture, and Design in Prague with the MgA title. (Magister Artist)

I currently live and work in Prague, the capital of the Czech Republic.
Are you interested in a commission artwork made by Yvonne just for you?

Yvonne Vacha is present in these categories: