Zuzana Bürger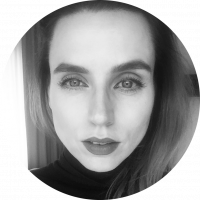 | | I studied art school and besides painting, I also illustrate and do graphic design. I've always been interested in art. From paintings to photography, dance, fashion, or design. For me, creating is a natural way of life. It doesn't matter if I paint, dress up, or cook. Everything is creation for me. |
| --- | --- |
I knew from a very young age that I was very perceptive. With my ability to empathize with others, I wanted to create works that could heal people.
With different topics I deal with in my work, I hope to help people struggling with different issues, inspire people to develep themselves, or simply make them feel a little happier than before. I mostly get inspiration for my artwork from my own life experience.
Education:
1995-1999: High Art School of Václav Hollar - subject of study: Promotional Designer
1995: Art School Michael
1993-1994: High School of Art and Management - subject of study: Promotional Designer
Joint Exhibition:
2000: Café in Prague
2002: 3 Town Hall exhibitions in Prague
Career:
2016 - Present: Freelancer - Books design, cookbooks, travel books, beletry etc. Ilustrations and paintings. Art director at Esence, Mladá fronta a.s., new design. Art director at newspaper N&N Černá labuť, Black Swan Media
2014 - 2016: Art director at Nové proměny bydlení (New living trends) magazine, Deco-media, lifestyle magazine about design and living
2010 - 2013: Graphic designer at Apetit magazine, Burda Praha, leading cooking & lifestyle magazine
2008 - 2013: Graphic designer at Marie Claire magazine, Sanoma Magazines, international women's magazine
2006 - 2008: Graphic designer at JOY magazine, Burda Praha, lifestyle magazine for young people
2005 - 2006: Art director at Dívka magazine, Bauer Media, top magazine for teen girls
2004 - 2005: Graphic designer at Yellow magazine, Hachette Filipacchi, lifestyle magazine for young people
2003 - 2004: Graphic designer at Pátek magazine, Lidové Noviny, one of the leading Czech newspapers
1999 - 2002: Graphic designer at few graphic design studios
Are you interested in a commission artwork made by Zuzana just for you?

Zuzana Bürger is present in these categories:
Need more help?
| Certificate of Authenticity | 14 days money back return policy | Safe checkout guaranteed | |
| --- | --- | --- | --- |