Zuzana Bürger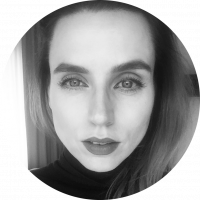 | | I studied art school and besides painting, I also illustrate and do graphic design. I've always been interested in art. From paintings to photography, dance, fashion, or design. For me, creating is a natural way of life. It doesn't matter if I paint, dress up, or cook. Everything is creation for me. |
| --- | --- |
I knew from a very young age that I am very perceptive and have a healing ability, which has been connected to my work, where I literally become a channel and my images have different resonant qualities, the paintings are in high frequency.
They can help with different personal topics, self-development or whatever just makes you feel good. The best choice of the right painting is the intuitive way. The one you like is the right one. Inspiration comes from my own life and the wisdom of my soul.
Education:
1995-1999: High Art School of Václav Hollar - subject of study: Promotional Designer
1995: Art School Michael
1993-1994: High School of Art and Management - subject of study: Promotional Designer
Joint Exhibition:
2000: Café in Prague
2002: 3 Town Hall exhibitions in Prague
Career:
2016 - Present: Freelancer - Books design, cookbooks, travel books, beletry etc. Ilustrations and paintings. Art director at Esence, Mladá fronta a.s., new design. Art director at newspaper N&N Černá labuť, Black Swan Media
2014 - 2016: Art director at Nové proměny bydlení (New living trends) magazine, Deco-media, lifestyle magazine about design and living
2010 - 2013: Graphic designer at Apetit magazine, Burda Praha, leading cooking & lifestyle magazine
2008 - 2013: Graphic designer at Marie Claire magazine, Sanoma Magazines, international women's magazine
2006 - 2008: Graphic designer at JOY magazine, Burda Praha, lifestyle magazine for young people
2005 - 2006: Art director at Dívka magazine, Bauer Media, top magazine for teen girls
2004 - 2005: Graphic designer at Yellow magazine, Hachette Filipacchi, lifestyle magazine for young people
2003 - 2004: Graphic designer at Pátek magazine, Lidové Noviny, one of the leading Czech newspapers
1999 - 2002: Graphic designer at few graphic design studios
Are you interested in a commission artwork made by Zuzana just for you?

Zuzana Bürger is present in these categories: