Art Talk: Konstantin Lyzogub about life through artist's prism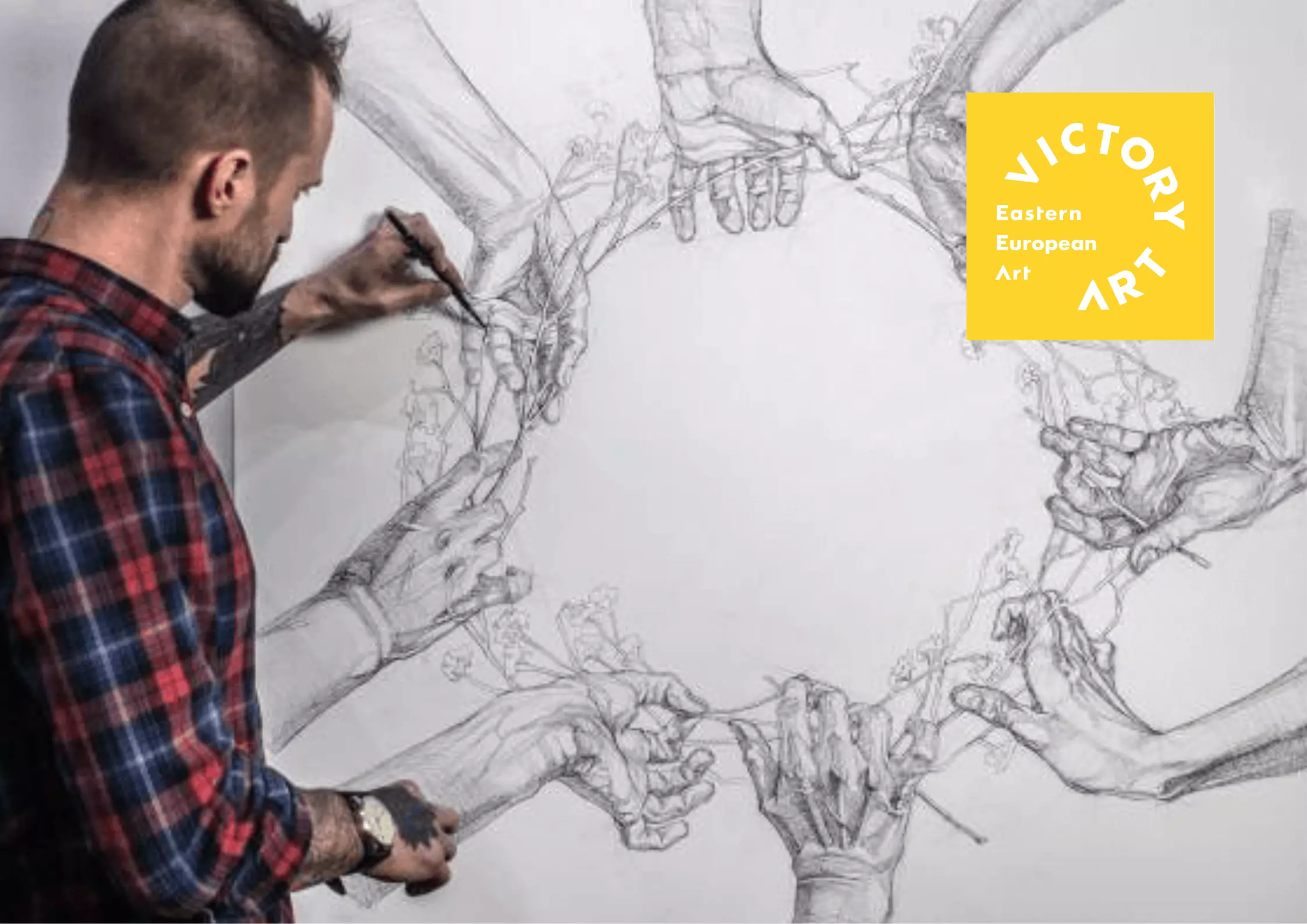 30.05.2020
Konstantin Lyzogub shares his past experiences, present challenges, and future artistic developments. Get to know Konstantin and what inspires him to create art.
1. What is your main concept of art?
KL: Every painting or set of paintings have their own concept. That is why generalizing one main concept of art is rather complicated. I would say the main concept is to find the character, idea, and transform that into the image. Any theme can be a concept for my painting, it depends on the situation I am in and what is on my mind at that point in time. I always try to reflect on what is currently happening in the world and my personal life. Above all, the main task for me is to look for the stabilized image, by taking conception into account.
But to simplify the answer, the main concept is the one of human psychology, state of individual consciousness, conflict, and the clash of opposites.
Wanna know what concept that fits you the most, come take this quiz to find out!
2. How did you start your art practices?
KL: Like most of the children, I drew, but I drew a lot. From my early childhood, I was engaged in ballroom dancing, piano, and guitar lessons, as well as attended the art school where I would learn about images and watercolors. In the end, out of all these activities painting took the lead! For me, it is the most comfortable way to express my thoughts and realize the ideas in my mind, ideas that I don't feel like 'talking' about. Later, I spent 2 years in the art lyceum where I explored in-depth pencil drawings, watercolors, and sculpture. Next, I attended the art academy for 6 years and immersed myself in imagery, oil painting, pictorial art, anatomy, history of arts, and many others. Self-practice is what followed after all of this knowledge gaining period in my life.
Curator's choice: FRACTUS by Konstantin
Try out our new AR feature with your phone to see how this painting from Konstantin is going to look on your walls at home and office!
3. What inspires you the most?
KL: The most complicated and yet the easiest questions – my inspiration. I can spend hours talking about that, about sunrises and sunsets, summer rain, mowed grass smell, music, cinema, and literature – inspiration comes from accumulating all of this. In some incomprehensible way all of these clashes, mixes in my head, and in that way thoughts start to appear. Thoughts and feelings turn into visuals and this is what inspires – the birth of an idea!
Check out our special collection to find your inspiration for art!
4. What are the medium and materials you currently use? And why?
KL: Currently, I am using oil paints for my drawings as I believe this technique gives a wide array of effects. This material can be used in the form of watercolors as well as multilayered painting. For graphic works, I always use ink. When I start my painting, I firstly employ charcoal pencil and later start layering canvas with paints. On top of that, I use potal, thin sheets of silver of gold.
5. How did you develop your own style? What does a persistent art style mean to an artist?
KL: At this moment, I would say that I am still in search of my own style. Although, some parts of it have been formed already. It entails realism and symbolism, but this is rather a direction in art than a style. Style, for me, is the process of styling the actual concept or idea (for example distortion, deformation, shape search, rhythm, and spots).
In my opinion, this is the most groundbreaking moment in the artistic career – to find oneself. In my case, ideas form styling. To find the style means to distort a simple, visible world into a complex and individualized form.
Curator's choice: LIGHT STONES I by Konstantin
6. What medium or materials will you explore in the future? Why?
KL: Oil painting allows me to depict all my techniques, thus I will continue working with this material.
7. What is the most challenging time for you as an artist?
KL: Right now is the most complicated time for me in an artistic and personal way. Part of my country (Ukraine) is occupied by Russia and so many people have died in the battle for independence. Not only that the president of my country is a stand-up comic but also our Ministry of Culture does not support culture or artists. The art market is completely absent in my country and under such circumstances, it is difficult to self-realize as an artist when you have no support. I, as part of the nation who cannot keep their eyes closed on these issues, really differ from those who feel safe in their cocoon of misinformation. As opposed to them, I reflect on all these happenings that have an inevitable impact on my own life.
8. How do you develop a theme of a series? From life? From a social moment?
KL: My art is partially autobiographical, but not always. Some themes are eternal, some are deeply personal. If the theme for the painting is a large-scale one, then it will develop into a set of paintings. When the idea in each new picture is transforming and gaining new shapes, that's how the new painting set is born.
I believe, an artist should have one main theme (idea) of his/her whole life that needs to be developed as the creative journey unfolds.
9. How do you understand the art world?
KL: The art world is all that surrounds us. The task of an artist is to capture, envision, and feel the harmony which can then be transferred into its own output, be it either music, dance, poetry, sculpture, or fine art. Each one of us has his/her own language of art which is the most convenient one to speak.
10. What would be your suggestions to young artists?
KL: My advice to those who start would be to always remain sincere and honest to yourself. Interestingly enough, in the Ukrainian language 'fine arts' translates as 'portrayal'. You should stop being a photo camera; the merit and aim of any artist are not just to shift the visible world on canvas, rather transform it into some form. If not for this, then why at all do you need an artist? A photo camera can perform other tasks perfectly well. What you need to do is to pass the simple and visible world through the prism of your worldview. In order to do this, you need to work on your inner self by reading books, listening to good music, watch great movies, and draw on the experiences of other talented artists.
11. What does art mean in your life?
KL: For me, it's the meaning of life! The only way I realize thoughts and ideas is by visualizing them. Only in this way, I feel that my life has a sense. This work takes a lot of energy which constantly needs to be replenished.
12. What is the power of art to people?
KL: I will repeat myself here – everything that surrounds us is art – architecture, music, clothing, sculpture, even design of the car, phone, or utensils – all of this has undergone the hard work of artists and designers. We live in a world full of art! And it indeed plays a huge role in people's lives. We want to be surrounded by harmony and beauty as it influences our emotional state. In this way, our life acquires a completely different content, creates various vibrations that push us to enact different actions, such as the ones that create something truly beautiful and unique.
Curator's choice: IN WITH BOTH FEET by Konstantin
If you want to see more work from Konstantin, you can visit his page here. You can discover more of our artists here and their work. And if you want to know more about purchasing Konstantin's art or other art collections we have, you can always make an appointment with us.

CHECK OUT OUR BEST BLOGS