A CREATIVE QUARANTINE: WHY IT MATTERS (AND HOW YOU CAN DO IT!)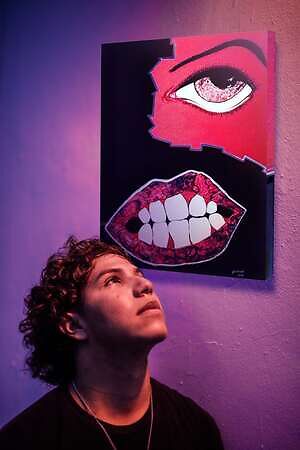 After two weeks of social distancing, one can assume you're starting to lose it just a little bit. And we're right there with you. With blurred lines between work and life, the added responsibility to homeschooling your child, and remaining sane with the sudden change every time, coping with life can be taxing. At times like these, it's important to find workarounds to make your life easier.

Today, we will discuss why creativity may be the outlet you are looking for during such a time. It can serve as an interesting learning experience and create a better home for you to feel comfortable and productive in. Let's start with the basics.

Can creativity really help you?

Sounds like a little new-age, amirite? Well, we can assure you that is not the case. There have been numerous studies to show that creativity can be an effective tool in building mental resilience, improving focus, and contributing to your overall welfare.

Table of Contents
1. Why You Should Create Art
2. Why You Should View Art
3. How To Incorporate Art In Your Life (Free Downloadable to All Freebies/Resources)
4. Practising Intuitive Art
5. Curations That May Help Relax You
6. Reference List
Creating Art

Art can benefit people by supporting physical, mental, and emotional recovery. For example, a 2017 report from the Mayo Clinic Study of Aging indicated that people over 70 who did crafts projects had a lower risk of developing mild cognitive impairment than those who read books. And this is not a one-off finding either. An involved art program has also shown to help create the elderly rebuild their social connections by alleviating feelings of loneliness and isolation, which is commonplace as we age. A 2006 study from the National Centre of Biotechnology Information (in the USA) also concluded that mindfulness art therapy could significantly reduce physical and emotional distress among women with cancer. Visual arts for adults with mental health conditions can reduce reported levels of depression and anxiety and, in fact, increase self-respect, self-worth, and self-esteem; encourage and stimulate re-engagement with the wider, everyday social world.
Under circumstances where people feel out of control, art serves as an outlet, reducing stress and loneliness while providing opportunities for self-expression. Creative activities have been shown to increase dopamine and activity in the frontal cortex and reduce the stress hormone cortisol. Additionally, it also provides an opportunity for self self-reflection, which is a critical component in gaining better emotional control over oneself. Because of these reasons, arts and crafts are becoming increasingly popular as a legitimate form of treatment for mental illness by neurologists.
E
ven if you don't fancy yourself an artist (although you don't have to be one just to get started), simply viewing fine art can be incredibly impactful for your well being as well. In fact, according to research by the University of London, higher dopamine levels and activity in the prefrontal cortex was not only true for creating art but also for viewing art. This leads to feelings of pleasure, something we wouldn't mind experiencing frequently. Additionally, like creating art, viewing art has also been seen to reduce stress hormone levels, making viewing art a great way to relieve stress after an exhausting day.
One critical difference in benefit one receives from viewing art instead of creating it is an elevated sense of empathy and critical understanding. Allowing yourself to engage in someone else's world or perspective broadens the horizons of your thinking. But this can't be true of abstract art, right? Actually, the human mind is excellent and distinguishing intentional art and unintentional art. Several studies have shown people continuously choose well known abstract art (including Mondrian and Pollock) over copycat works or artworks made by animals and children. The brain thrives in a supportive environment, and art is a great way to create a safer, more stimulating, supportive, and functional environment.
Here's a quick art infographic to sum it all up!
Okay, so now that we know there is hard evidence for the advantages of art, how do we implement it in our normal lives.
Creative Art with Your Family (Especially children)
Staying motivated while working from home every day is hard enough. Add to that the stress of homeschooling your children, and making sure they get enough playtime (so away from screens) can be exhausting to think about. If you are looking for a relaxing activity that is both fun and beneficial for you and your child, creating art is one.
Having such an outlet to keep busy is especially beneficial for children since they have not yet fully grasped why they can't see their friends. There are numerous developmental benefits for children when it comes to art. Firstly, they can practice their motor skills by grasping art supplies and making controlled movements to create their artworks. Secondly, art assists in their developmental learning by helping them practice critical learning, planning concepts, and following through on those ideas. They also learn about important concepts like size, shape, and spatial reasoning. Finally, let's not forget that art is a communicative tool. Art can be used to help them express themselves and give you a clearer understanding of how your child perceives the world. With active listening and asking open-ended questions at the end of each art session, you'll definitely be able to get to know your little human better.
Not to worry if you don't have children to share this hobby with. As we explained above, creating art is equally beneficial for adults as well.
Download free colouring printables here.
Practice intuitive art when things get tough
Art Therapy refers to a discipline that uses creative expression through visual art mediums. Not only is it a cathartic experience, but also, when done right, can help you decipher underlying emotions that may be guiding your behaviour. However, much like therapy, creative art therapy requires patient-therapist interaction. There are a few ways in which you may be able to workshop one for yourself though
Remember that all creative expression, whether it is with a therapist or not, can be relieving. So, even if you don't have someone to guide you through the process, simply creating will make you feel better.

Practise mindfulness (there are many guided meditations you can find online). When you have reached that sense of calm, create whatever's on your mind.

Victory Art hosted an art therapy workshop during one of our local Venture Cafe gatherings. You can follow this Youtube video to see how we did and maybe even follow us.

Play some music you really enjoy and give it a try
Sign Yourself Up for a challenge
Often a lack of ideas can be more than enough reasons to give up. If you're not sure about where to get started, look into your phone. There is a world of inspiration out there. From Tiktok challenges to a systematic 30-day challenge hosted by several people, you can always find something to start with. However, be sure to not compare your work with anyone else's. It really isn't about what ends up on paper. It's about how the process makes you feel.
Use Art to Decorate
Think of this period as a sort of blessing in disguise. While stress levels are high, it's been a long time since we have had this much time to reflect. So, why not awaken your interior design and redecorate your space to create a better home for yourself. Not only will this give you a project to focus on, but you will also end up with a space that you will feel more comfortable in. This is especially true when trying to remain productive from your home workspace. Here are a few tips to get you started
Colours used in decor also play an important role. A study by the University of Texas found that grey, beige, and white offices caused feelings of depression and sadness, especially in women; other studies likewise showed that colours increase our sense of happiness and productivity.

Incorporating art pieces into the home office also brings certain valuable benefits. A study from the British Council for Offices found that over 90% of employees believe that featuring art prominently in the workplace boosts overall productivity. In contrast, 86% of those surveyed explicitly agreed that art is "more relevant than ever.
Make use of online resources
We've compiled a list of interesting things you can do from the comfort of your bed to help you scratch the creative itch. Download the file for free here (no email required).
Creating intuitive art can be one of the best ways to cope with the stressors of today. It is a spiritual and creative process that allows you to tap into your inner awareness and put it out on canvas (or any other medium). Free from the over-analyzing mind, it does not focus on aesthetics or any "reasonable" expectation one may have of art. Rather urges creation from a very personal and authentic place, beyond what may be practical. The best way to describe it is probably how a child switches from yellow to blue, without hesitation. While children are naturally intuitive, our adult minds have been trained to pay excessive attention to trivial matters and limit ourselves every step of the way. That's why connecting with oneself can be difficult. Intuitive art might as well be one of the best ways to find your way back to yourself.
Intuitive art may understandably be a difficult idea to grasp for many: it sounds rather impractical than what many people may be comfortable with. However, if you have ever had an inexplicable gut reaction about anything in your life, you understand the concept of intuition. Whether you may see it as a subconscious thought or look at it from a more spiritual point of view, the practice of intuitive art requires you to self-reflect and get back a sense of your intuition.
How do you practice intuitive art?

Disclaimer: While a self-led session may not necessarily have the same impact as one with a licensed professional, we guarantee that it will help ground you somehow. If you are curious about what an actual session may look like, check out this video where one of Victory Art's artists (and Art Therapist), Andrea Ehret, guides us through intuitive art here.
1. Preparation:

As we explained previously, for one to create intuitively, one must be connected to their emotions and identify and respond when one feels right. Therefore the first rule of thumb is to be comfortable. Pick a corner of your home that you feel physically comfortable in, whether it be the edge of the sofa, your home office, or a sunny patch on the floor. While the bed may be a comfortable place for many people, we would encourage you not to practice intuitive art there. Proper execution of the process requires you to set your intentions on being awake and aware, so your bed may not be the best place to do so. Make sure all your tools ready. Intuitive art does not require you to stick to any medium: you can create art using pencil and paper to fancy acrylics. Do not get swept away from unnecessary concerns over which medium to use.
2. Building Awareness:
If you are familiar with meditation practices, now is your time to shine. Bodyscan and mindfulness meditations are recommended during this process. However, if you are not familiar, there are many free resources. You can start with this short meditation by Hatchett media. You can use other guided meditation from other resources (and there are plenty) if you like. If you are new to the practice of meditation, ensure that you are not trying to silence your thoughts. Meditation is, in fact, about observing your thoughts and bringing your attention back to the present. While it may take some practice, you can definitely build it up as time goes.
3. Gratitude:
After the meditation, take a moment to reflect on the thoughts and memories of you during the meditation. Was there a moment where you felt strongly about a thought you had: whether it be gratitude or frustration? Think back to the moment you experienced the thought, how it made you feel.
4. Start!:
Now take your tools and start drawing, painting, or scribbling whatever you feel like at that moment. Continuously think back to the peak moments during the meditation to drive the shapes. They need not be coherent; abstract depictions are just as valid as non-abstract ones.
5. Reflect:
After you are done, reflect on what you created. You can work on the artwork multiple times through sessions. You can also play music in the background if that sways you.
For a close to professional session, you can check our Intuitive Art Therapy session during Venture Cafe Rotterdam's session with our CEO, Viktoria Pikovska, and the talented artist and art therapist, Andrea Ehret, here.
Download the instructions here.
If you wonder what kind of artwork will help create a relaxing artwork, our curator has got you covered. For a tranquil environment, consider these themes.
Check out the full curation here.

1. Landscapes
With the horizon that provides certainty and stability, the details of the landscape provide a place where viewers immerse their emotions and leave reality for a moment. The repetitive elements also give a sense of order. Plus, it's a little bit of the outside in your home!

2. Abstract With Calming Colors
The viewer can get lost in abstract painting; there is no beginning, no end; it is only a perspective that leads the viewer from reality into a realm unknown. Colours on the cooler side of the colour wheel, like blue, green, and purple, are obvious choices. Pair them with neutrals like white and black, and you definitely have a space you can relax in.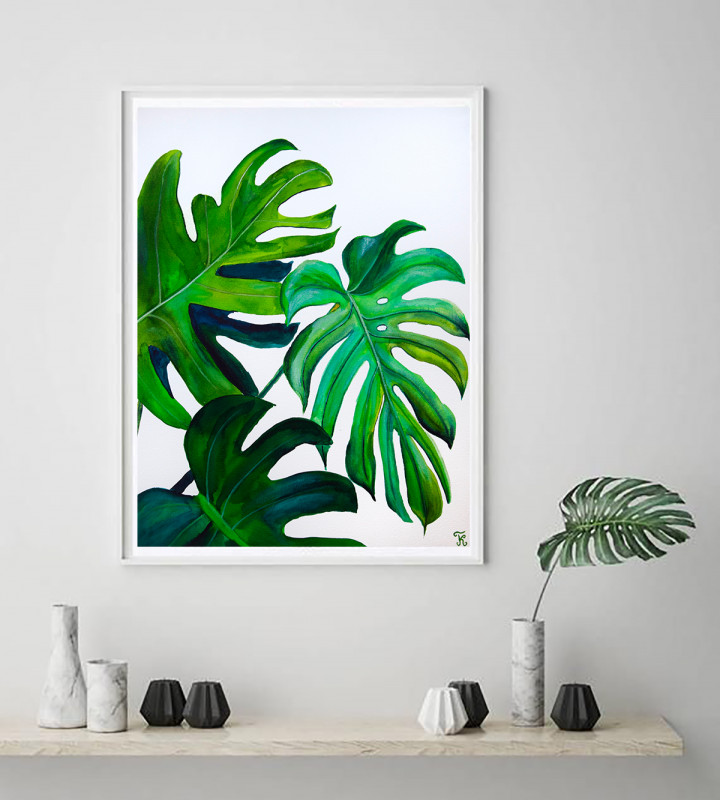 3. Realism
Realistic still life paintings evoke feelings of calming peace. They blend easily with the background and give the room a stronger sense of its purpose.
When looking for realistic artworks, look for soft lines, soft colours, nothing to provoke unnecessary senses suddenly. In other words, the artwork should just "fit in".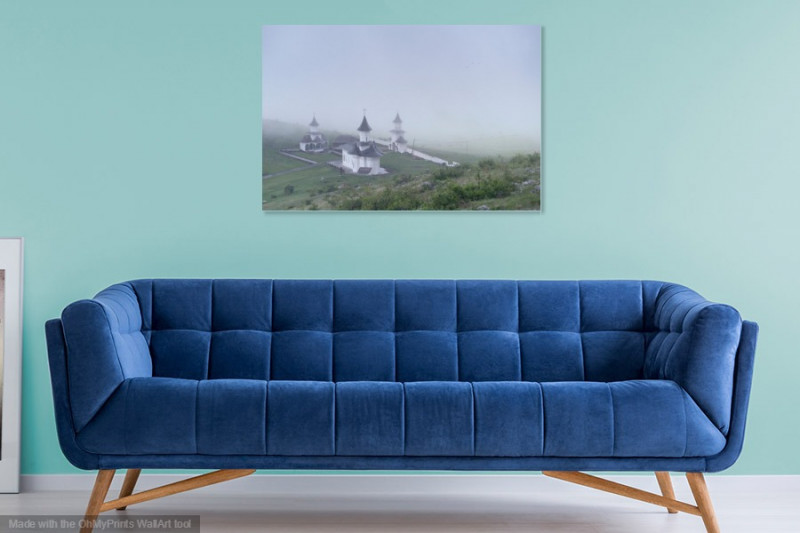 4. Photography
In architecture and landscape photography, everything is perfectly balanced and sensible. This principle makes the result in something we can unwind to.
Reference List - read all the researches and articles used to create this page.