Alexandra Mikáczó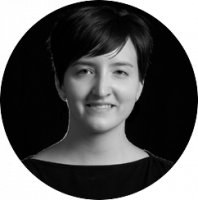 | | I have always wanted to be an artist. Because I was passionate about learning art from a young age, I started partaking in art classes at primary school in my hometown. When it was time for me to choose my studies, I was stern about my decision to study painting. Unfortunately, there were no universities with art degrees in my hometown, so I decided to move to a different city in Hungary to receive my painting degree. |
| --- | --- |
After receiving my degree, I decided to deepen my knowledge of art theories. I moved back home to study aesthetics and art theory at the University of Debrecen. I am currently most interested in modern and contemporary abstract art, therefore that is the genre that I primarily focus on when creating my own work. Additionally, my passion for contemporary abstract art led me to use the same topic to conduct research at my university.
My work is highly constructive. The arrangements of forms are simple yet expressive. Within the field of abstraction, I am particularly interested in symmetry and asymmetry, as well as the different combinations geometric shapes can create.
In some cases, I fill these geometrically delineated shapes or the space surrounding them with a looser, more dissolved brushwork. Following the principle of simplicity, I use elements such as the quadrangle or the triangle. I often use a limited color palette or even create monochromatic works in order to emphasize the contrast between the shapes.
Are you interested in a commission artwork made by Alexandra just for you?

Alexandra Mikáczó is present in these categories: