Alexandra Mikáczó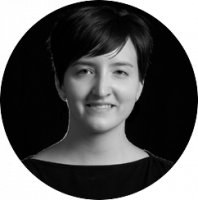 I have always wanted to deal with visual art that's why I went to a grammar school in my hometown where I visited an art class. After grammar school, I decided that I would like to deal more with painting, but, unfortunately, there was no possibility to study art at the University of my hometown so I moved to another city in Hungary in order to get my painter's degree.

The basic feature of my work is constructive, the arrangement of simple yet expressive forms. Within the field of abstraction, I am primarily interested in the problems of symmetry and asymmetry, and the stricter, thought-out, geometric shapes.
After this, I decided that I would like to deal with art theories too that's why I moved home again, and now I study aesthetics and art theory at the University of Debrecen. I find modern and contemporary abstract art pretty interesting so I usually paint abstract paintings and my research at the university is based on modern and contemporary abstract art too.
However, in some cases, I fill these geometrically delineated shapes or the space surrounding them with a looser, more dissolved brushwork. Following the principle of simplicity, I use elements such as the quadrangle or the triangle. I often use little-color, in which non-colors (black and white) appears as well, creating a special contrast.
Are you interested in a commission artwork made by Alexandra just for you?

Alexandra Mikáczó is present in these categories: