Armen Asatryan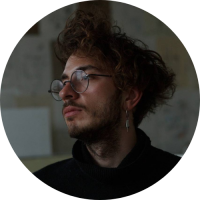 | | Armen is an artist who lives and works in Moscow. But he grew up in the far north of Russia in the city of Dudinka in the family of a hairdresser and a shoemaker. As a child, he was raised with a love of fashion and art and was taught to listen to himself first and foremost. Since then he was choosing what was interesting to him and so experimenting has become the credo of his lifestyle. |
| --- | --- |
A city the size of a handbag Jacquemus did not particularly indulge him with the abundance of modern life, So he moved first to the cultural capital of Russia at the time - the city of Perm and after - to Moscow. From 2008 to today, hairdressing and styling can be considered as his main profession. While working in this position full-time, he gained unique experience in working with color, shape, and in communication which came out in handy when he started exploring the world of art and fashion.
He gets inspiration from everywhere: nature, digital media, architecture. But most of all he is intrigued by people. Unlike with nature, where everything is harmonious, humans always have a double bottom - Armen tries to catch it in his art. Having the icon painters as far ancestors, his portraits are modern faces - a distant echo of this hereditary connection. For the most part, these are generalized, collective images, a living mixture of contradictions, endless introspection. The aesthetic component of his work is also great - his portraits are full not only of emotions but also of visual harmony where the lines are as dynamic as the life itself.
Are you interested in a commission artwork made by Armen just for you?

Armen Asatryan is present in these categories:
---
Need more help?
| Certificate of authenticity | 14 days money back return policy | Safe checkout guaranteed | |
| --- | --- | --- | --- |