Blanka Jedra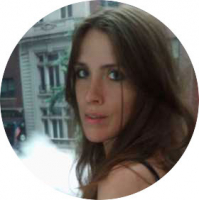 I'm an artist currently living in Warsaw. Experimenting with different media where I combine oil, acrylic paint, ink, chemical substances, natural pigments, and also dyes used in microscopic examinations. All of them combined to bring out unique and intensive colors.

My abstract paintings are inspired by geological formations, cosmos, oceans, and sea life. In my artwork, I focus on details and structure. After a closer glimpse, you can notice in my work patterns looking like microorganisms or cells under a microscope giving an organic feeling to my art.
I also do believe in the psychological benefits of colors. Surrounding yourself with turquoise and blue used in almost all my paintings may make you feel calm. Though deep purples will stimulate your imagination.
Are you interested in a commission artwork made by Blanka just for you?

Blanka Jedra is present in these categories: