Autumn Curation
Delve into our Autumn Curation! Stay inside and curl up with a good book and some hot tea. Let us help you channel that warm, cozy, but sometimes also frosty feeling in your home! Here is our top selection that will comfy up your furnishings.

This Autumn, we prepared a collection of artworks of various sizes, colors, and techniques, so you can pick and choose whatever your heart desires!

Explore our Autumn Collection! Here is our top selection that will create the unique atmosphere for your household or office spaces.
COMFY UP YOUR INTERIOR

The "Comfy up your interior" Autumn Curation is all about comfort, warmth, and those cozy and chilly days. Creating a homey and snug atmosphere with lots of warm colors and moods. With this collection, Victory Art is bringing some stunning art into your decor. Whether you choose the warm and fiery oranges and reds, opt for colder grays, or bring some earthiness with browns, your interior will fall perfectly with the autumn aura.
RE-ORANGE YOUR DECOR
For almost everyone, the Autumn season is associated with the beautiful colors of falling leaves – the redness, orange, and yellow surrounding us.
To capture the warm feeling that stunning nature brings us, we have chosen these artworks. Unfortunately, many days during these months are rather gloomy and depressing – what would be better than bringing in those warm and cozy colors into your interior?

EMBRACE THE GRAY DAYS
For those more gloomy days, embrace the gray colors and give into the melancholy – why not romanticize this cloudy weather? To capture the essence of melancholy and calmness brought by the Autumn afternoons, we have chosen these artworks. When the weather is so dismal, why not take a moment to let all of your worries go - accept the laziness and allow yourself to relax.

GROUND YOURSELF WITH EARTHY BROWNS
Autumn season is about change and fleeting moments. Everything is transforming and preparing for the winter, it's important to not get overwhelmed and ground yourself in the moment. This curation was inspired by the practice of staying in the moment and reconnecting with nature, no matter the shapes and colors it comes in. The artworks we chose should remind you to take a deep breath and get ready for the cold months of winter.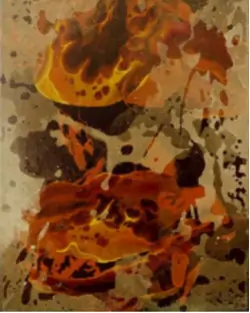 DO YOU NEED MORE INSPIRATION?
| Discover style ideas in our blog | Discover tips on decorating with Art | Surprise someone with a... |
| --- | --- | --- |