Josef Rataj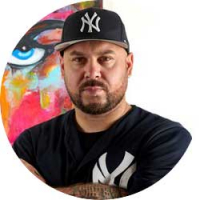 Josef was born on 29th May 1979 in Pilzen. The large city on the west of the Czech Republic where his grandparents brought him up. His grandfather, a famous Academical artist, was his guide and teacher throughout his childhood, and later on, in his life, this important journey to Las Vegas showed him the direction he wanted to follow.

His performance has always been a show where he describes his feelings, people's feelings, and the modern lifestyle. He also writes hidden messages to his pictures which makes people think about themselves and also the art itself.
His first pictures were presented and sold there in LA and that was the beginning of his new life. He became well-known for his PopArt, 3D objects, speed painting abstract art, and realism. Then he moved his art back to the Czech Republic where he started with huge exhibitions across the country. He has been participating in several multimedia shows, designing clothes for famous designers, and cooperating with dancers and musical artists in the Czech Republic and the whole of Europe for more than 15 years.
He totally understands how important art is for other people everywhere in the World and that's why he is connecting design and art together. He wants people to see the reality through his art today and a hundred years later….
Are you interested in a commission artwork made by Josef just for you?

Josef Rataj is present in these categories: