Kateřina Bohušíková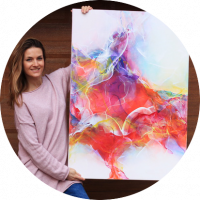 I come from Ostrava in the Czech Republic. I'm 36 years old and I started painting quite recently. I had no idea what I was going to do and did not expect that it would enthrall me and fulfill it at the same time. I have studied marketing and then geoscience and mountain tourism at the Technical University of Ostrava. So it was really far from painting and art. Yet art has found me.

Maybe it sounds cliché, but painting means to be an escape from everyday reality. From every day, stereotypical duties and let's be honest, from kids. I paint because I need it. I love that I can express my feelings through colors.
At the moment I am a full-time mum. I have two beautiful boys, but they take a lot of my energy. It has been one year since I have found this the amazing relaxation called art. I love every process of painting: from the smell of paint to the process the picture arises under my hands. When I start painting, I never know what the picture will look like at the end. Each one comes out spontaneously, making me look forward to every piece like a little child.
Are you interested in a commission artwork made by Kateřina just for you?

Kateřina Bohušíková is present in these categories: