Kristína Fašungová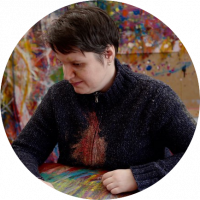 When 33-year-old Kika moved to Maják, it quickly became her second home. An expressive resident, she communicates with others not only through a wide range of signs and symbols but also with not-to-be-missed facial expressions. She loves social and leisure activities, after which she often relishes a small cake and coffee.
Watching TV with flashing colors and images also fascinate her. A keen painter, Kika can easily get lost in her emotions during the art therapy sessions. The texture, reflections, and contact with canvas provide her with serenity as well as aesthetic simulation. Colors are her signature traits, which appear throughout all her creations. A radical painter, she paints the whole body: she needs to have colors throughout the body to feel the stimulation flowing around her. She considers this a cleansing ritual which peels off her mask to show her true self.
At the end of each session, she can be seen covered in the colors of her creation: she becomes her own art. Radical as it is, such an immersive method helps her during times of distress. She loves to work in a large area as she can freely express her creativity. No one takes art as seriously as she does.
If you would like to get to know Kristina more and discuss her work, send us a quick email at viktoria@victoryart.eu and we will schedule a video call for you!
Kristína Fašungová is present in these categories:
Want to see how the art piece looks like at your home → Rent it first
Every art piece is coming with a Certificate of authenticity
Buy now pay later → Check payment plans
14 day return policy → Money-back guarantee
Do you have any questions → Contact us
We accept these forms of payments: Visa, Visa Electron, Mastercard, Mastercard Electron, Maestro, Visa Checkout, Masterpass
Are you interested in an art piece specially created for you → Check commission artworks