Lidia Lesiecka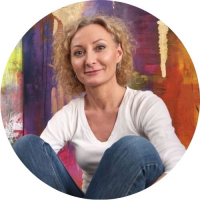 I graduated from Krakow's Pedagogical University, obtaining a master's degree in Graphic Design. In my painting collections I represent expressive abstraction. I am inspired by nature in its surprising wealth of shapes, colours and forms. I am delighted with the light and the splitting of colours.

Constantly experimenting with colours, techniques and textures to best show the emotions. I use very often synthetic gold in my painting to show light of energy. This is why very often my paintings do not fit within the framework and often go out into space.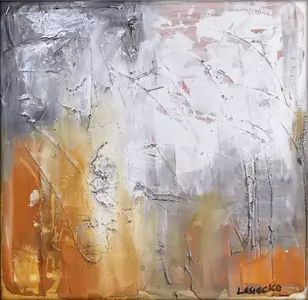 I strongly believes that emotions as well as energy are contained and encoded in every painting. That is why I take care to create art in a quiet and relaxing atmosphere.
Beside being a fine artist I am also teacher of Vedic Art - method of unblocking creative potential by intuitive painting. I believe that art frees blockages, is a straight path to yourself because each of us can be a creative creator, you only have to allow yourself to do it.
Exhibitions:
2021 - individual exhibition, collection "Energy of Light", RozWojownik Gallery in Kraków.
2018 - individual exhibition, collection "Nature. Microcosmos", Stopklatka Gallery in Kraków
Are you interested in a commission artwork made by Lidia just for you?

Lidia Lesiecka is present in these categories: