Simona Stanciu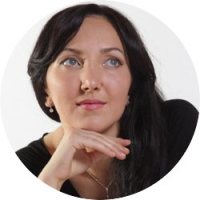 | | I was born in a small town in Romania, Brad, on the 17th of October 1984. As a kid, I was very passionate about drawing and painting. At the age of high school, I moved with my bigger sister to the nearest town where I could study art, the "Sigismund Toduta" High School of Music and Fine Arts, in Deva. |
| --- | --- |
I graduated high school and started University in Timisoara. I studied Graphic Design at the "West University" of Arts and Design but abandoned it in the second year because of economic reasons. Being a person who had always believed in destiny, I felt deceived not being able to finish my art studies and do what I believed I was destined for. I felt mad at myself for believing in what was not possible. I was extremely disappointed, so I stopped. I stopped painting and threw away my tools and creations I had, and started "a new life", without art. I moved to Italy and began working at a farm in Montalcino, Tuscany. I met my partner and became a mother. I had and have a loving family and everything anybody could dream of, but despite all, I did not feel complete, something was missing. Deep down in my heart, I knew exactly what.
I have always been attracted and connected to art, though it took a long time before I even acknowledged it. Then at one point in my life, I decided to follow my passion and start a path as an artist.
I believe my purpose in creating art is to express my feelings and communicate my thoughts, to transform the the emotions of the viewers. Emotions are the most important thing to us. They influence our choices and everything that we do. Our life and our reality is shaped by how we feel.
Are you interested in a commission artwork made by Simona just for you?

Simona Stanciu is present in these categories: