Tanya Bilous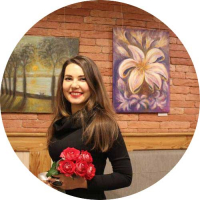 I was born and raised in Ukraine, the city called Ivano-Frankivsk, which lies in the Western part of my country. Art was always a part of me, somewhere inside and not shown to the public.

Through various techniques, I try to project my emotional state on canvas at the moment I am painting. I do love painting; it is a meditation for me, a state of mind where the flow of thoughts stops and you can feel the moment as it is. It is impossible to lie on canvas, put on masks, pretend someone else.
Canvases see everything, like a lie detector. You can see and feel my soul on canvas. No words are needed. You can always feel what is real and honest; you just need to look deeper and broader.
I started painting a few years ago, first as a self-taught and after went to study in a private art school. Since then, I have participated in numerous joint exhibitions in Ivano-Frankivsk, Lviv, and Kyiv. I also organized my two solo exhibitions "Emotions" and "From Sunset to Sunrise".
.
I am painting on various topics such as landscapes, floral, still life, and figurative art. The only thing that remains so far stable in my art life is the oil paint and linen canvas. This is my ultimate love. I believe that it is quite normal for the artist to change the topics of artworks, techniques, and styles. It means that the artist is developing, and that is exactly what I am doing every day of my life.
Are you interested in a commission artwork made by Tanya just for you?

Tanya Bilous is present in these categories: