Zuzana Ridzonova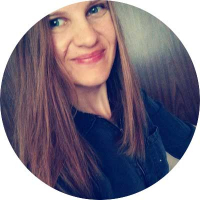 My paintings are abstract in style, because I believe abstract art offers great freedom of expression and movement. I believe art is a kind of therapy or meditation, an experience where time ceases to exist.

I have been painting ever since I was a child. I mostly did it for myself, since I had a need to express my personality. The act of creating art was always soothing and joyful. When I became an adult, I entered the world of art via an art collector. Afterward I met the prominent Czech painter Jiří Petr, who continues to mentor me.
I find inspiration from nature, the universe, love, death, and the harmony within them. My work can be defined as the journey of the soul through the universe. Every picture tells its own story.
A lot of my works are a projection of my own thoughts, which are inherently unique, and distinct from others. I hope my work will bring beauty, harmony, and inspiration to every home it hangs in.
Are you interested in a commission artwork made by Zuzana just for you?

Zuzana Ridzonova is present in these categories: