Zuzana Ridzonova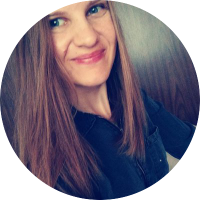 I have been painting ever since I was a child, mostly for myself, to alleviate any inherent need to express my personality. This activity was always soothing and joyful. As an adult, I entered the world of art via an art collector and so afterward met the prominent Czech painter Jiří Petr, who continues to mentor me.
The paintings are in an abstract style and offer great freedom of expression and movement. It is a kind of therapy and meditation, the moment when time ceases to exist. I find inspiration in things such as nature, the universe, love, death, and the harmony amongst it all. My work can be defined as the journey of the soul through the universe. Every picture tells its own story.
The final image is ultimately a projection of my own thoughts, which is inherently unique, distinct from others. I hope my work will bring beauty, harmony, and inspiration to every home it hangs in.
If you would like to get to know Zuzana more and discuss her work, send us a quick email at viktoria@victoryart.eu and we will schedule a video call for you!
Zuzana Ridzonova is present in these categories:
Want to see how the art piece looks like at your home → Rent it first
Every art piece is coming with a Certificate of authenticity
Buy now pay later → Check payment plans
14 day return policy → Money-back guarantee
Do you have any questions → Contact us
We accept these forms of payments: Visa, Visa Electron, Mastercard, Mastercard Electron, Maestro, Visa Checkout, Masterpass
Are you interested in an art piece specially created for you → Check commission artworks