How Art In The Office Boosts The Wellbeing of Employees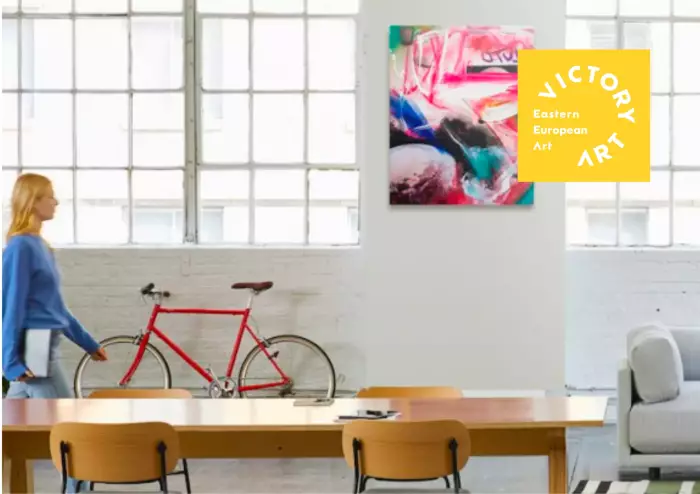 11.07.2018
Being distracted at work is not always a bad thing. If the object of your distraction is a work of art, it can actually boost productivity, lower stress, and increase wellbeing.
"People spend most of their lives at work and being in an office can become very routine, but if there is interactive art around the place it offers an ongoing sense of intrigue and engagement," says Knight from Exeter University.
Research by Exeter University's School of Psychology found that employees who have control over the design and layout of their workspace are not only happier and healthier -- they're also up to 32% more productive. The research involved more than 2,000 office workers in a series of studies looking at attitudes to and productivity within working space.
Further studies, one at Exeter University and another in commercial offices which saw participants take on a series of tasks in a workspace that was either lean (bare and functional), enriched (decorated with plants and pictures), empowered (allowing the individual to design the area) or disempowered (where the individual's design was redesigned by a "manager"). This study found that people working in enriched spaces (decorated with art or plants) were 17% more productive than those in lean spaces. The figure then doubled to 32% for people who worked in the empowered space. As for those who'd seen their personal touches undermined; their productivity levels were the same as those in the lean space.
Curator's choice: PLUTO by Mihai
Try out our new AR feature to see how this painting from Mihai is going to look on your walls at home and office!
"In 12 years we have never found that lean offices create better results, and the more involved people are in the enrichment process, the more they are able to realize a part of themselves in the space," explains Knight from Exeter University.
The notion that art in the workplace is merely decorative was dispelled in a survey of more than 800 employees working for 32 companies from firms ranging from food distributors to law firms from throughout the U.S. that have workplace art collections. It found that art in the workplace helps businesses address key challenges such as reducing stress (78% agree), increasing creativity (64% agreed), and encouraging expression of opinions (77% agreed).
By art is not mean so-called "motivational posters", which say things like "there is no I in team" or "whatever the problem, be part of the solution", because these don't work at all. Splashes of color in a painting can alter the mood of a meeting room or a piece of unusual artwork can provide a talking point in a bland corporate space.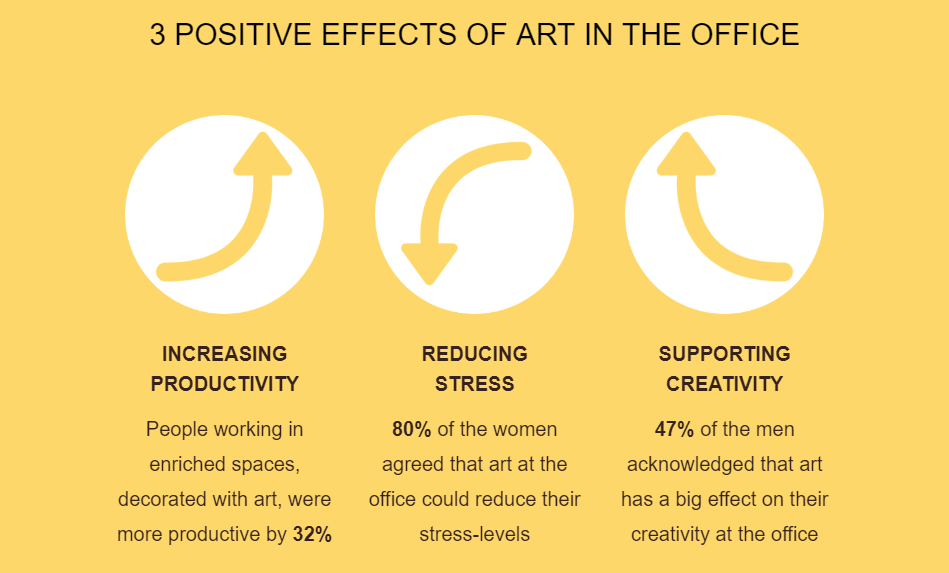 A smaller study at Cass Business School explored the perceptions of employees towards art in the workplace and its effect on themselves, the clients, or company image. Both male (64%) and female (73%) respondents agreed that the design of their workplace has an effect on their working day. Interestingly, male respondents rated art (39%) as the most important element of the interior design of the workplace.
However, the impact of art on the individual employee regarding work ethic/motivation, creativity, stress level, and general well-being seems to be greater on women than on men. Specifically, 54% of women acknowledged that art has a big effect on their creativity at the office (47% of men) and 80% of the women agreed that art at the office could reduce their stress levels (66% of the men). Furthermore, 92% of the women stated that art affects their general well-being, compared to 71% of the men.
Some companies consciously use art as part of their retention strategy. Aesthetic in the truest sense means energy-giving which is what a workplace needs, rather than a bland, industrial environment which can be more like giving workers a dose of esthetic.
Curators Choice: The Grace of Spring by Claudia.
Want to know more about how art can be beneficial for your brain, click here! Want to redecorate your office with some new arts, you can also check out our special collections to find more inspirations! You can also read our blog on interior design trends to find more style! Not sure which artwork to buy, no worries, check out our rental art services, and if you need more help or special requests, feel free to book an appointment with us!

Which is a photograph (rather than digital art)?
Scratch to find out!
CHECK OUT OUR BEST BLOGS