We Have Been Published in The Slovak Forbes!
29.11.2019
Read more about how Victory Art started. This article is a translation from Slovak Forbes. Read the original article
here
.
How Victory Art began
When Viktória Pikovská first applied to FAMU Art College, she noticed that many talents were not given a chance. "The fate of others is decided by a limited group of people dictated by their personal preferences. Not only do these preferences dictate whether they should enroll someone in the school but whether or not they should be an artist at all" she describes. Abroad, she started to devote herself to the art scene and founded the startup, Victory Art last year. Together with a team of eight people, she helps artists from countries located between Germany and Russia find their place in the global art market.
Find more about us here!
The Dutch and their win-win approach
Viktória was a year and a half into her studies in Prague at Charles University when she realized that the market there was closed and lacking in transparency. "I thought I'd like to go somewhere where the market is bigger and I can try something new," she opens our conversation. Therefore, she applied for an exchange program that brought her to the second largest Dutch city, Rotterdam. She was supposed to stay there for three months. "From three to six, then six to nine," she recalls.
What especially interested her was the different mindset of people living here. They stick to the win-win approach, so they are willing to work together to help each other. "Rotterdam is a multicultural city, so people's thinking is more open and liberal. I meet with different opinions and everything is positively mixed. This creates a mix of ideas, communities that contribute to the development of the Netherlands." Viktória says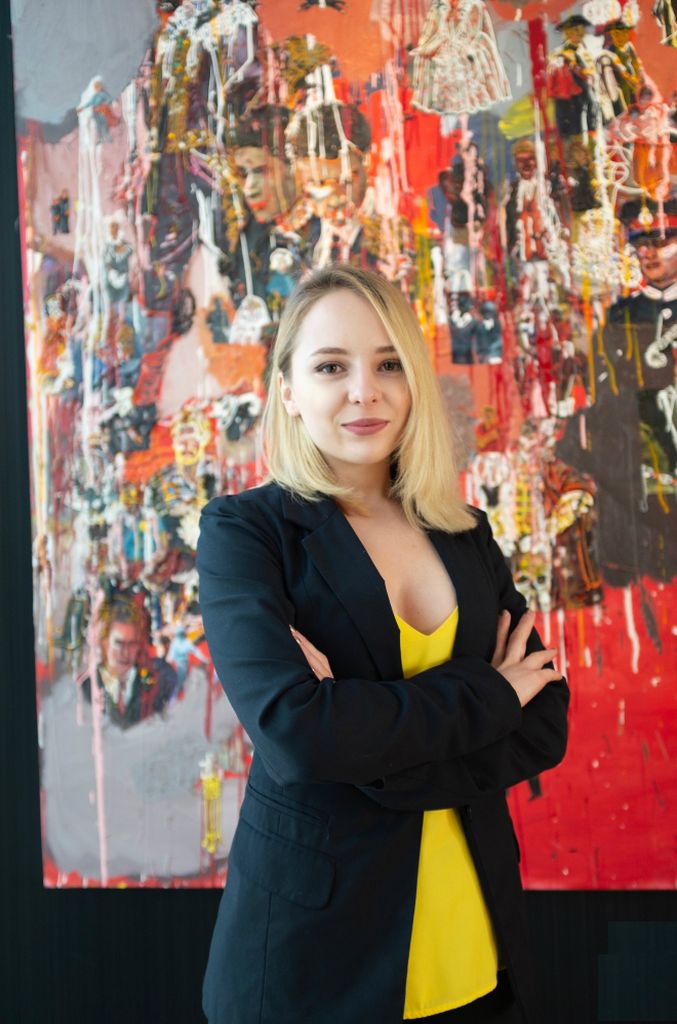 Viktória Pikovská. Founder of Victory Art
Money? Rather human capital for startup
After six months in the Netherlands, she became more and more involved in the business community. She attended the Cambridge Innovation Center (CIC), which focuses on building startups and helping entrepreneurs. "It was interesting to see how they encourage young people and businesses to help them in economic development," she explained more closely.
Eventually, Viktória started playing with the idea of ​​her own startup. She has therefore developed a one-sided business plan in which she put her own vision together. With that, she headed for the startup accelerator World Startup Factory, where she was assigned Aditya Putta as her coach. "If you don't have business knowledge, you think the first thing you need is money. He asked me about twenty times what I need and after three weeks he contacted me. My startup wasn't chosen for the accelerator program because it was in the concept confirmation stage. So it was not relevant to the program"
But something else happened. Aditya told Viktória that he liked her design and energy and would like to help her set up the business. "He was exactly the human capital I needed to get started," she says. Startup Victory Art was conceptualized in 2017, but it was not launched until last year.
In it, they focus on fine arts, 95% of which are mainly paintings, which Viktória believes are the most valuable in terms of investment potential. They also devote their time to drawings and photographs. This work comes from artists in Central and Eastern Europe. "We work with people from post-Soviet countries and help them get into the global market," she explains more closely.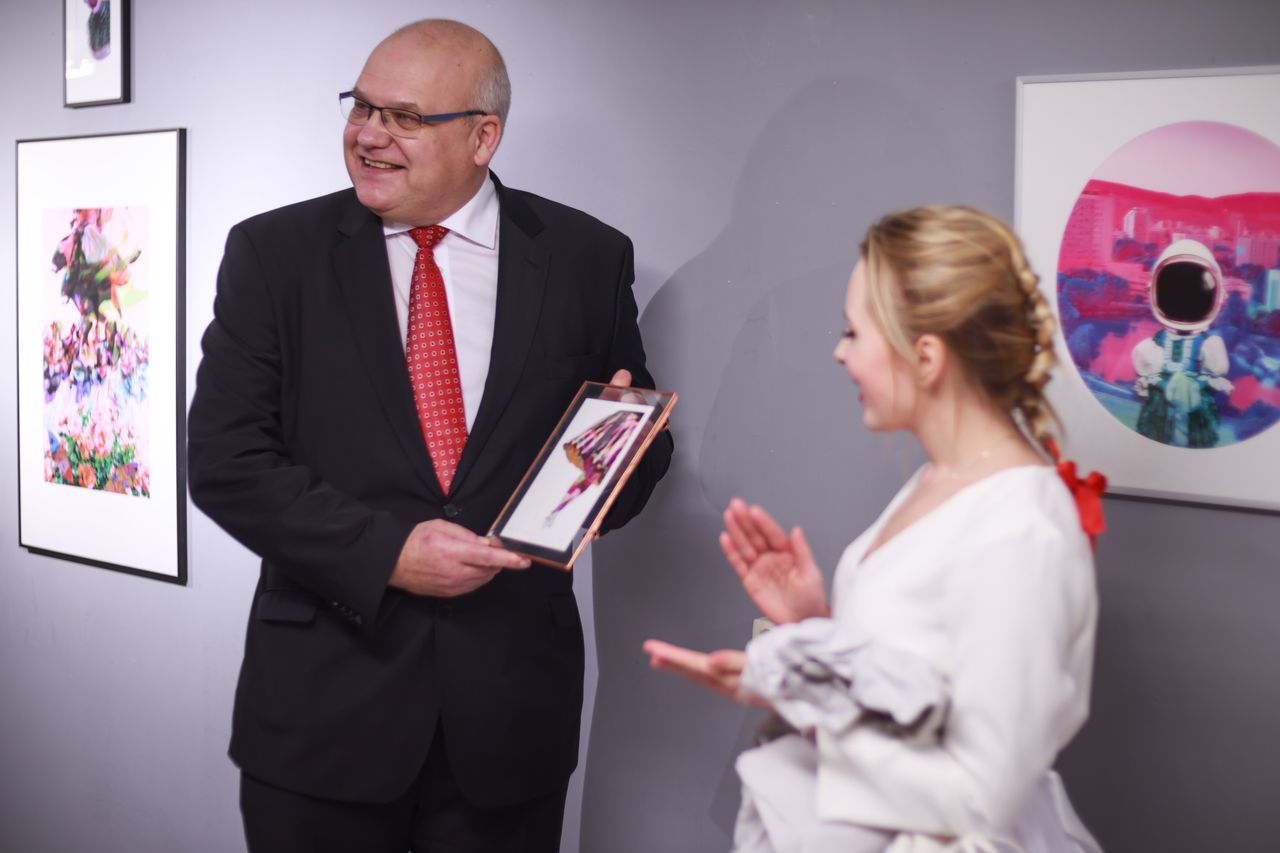 Victoria with Roman Buzek, Ambassador of the Slovak Republic in the Hague. Photo: Victory Art
A Victory Art Vision
When asked why they focused on these countries, she answers: "There is a lack of knowledge in the art market about talented people who work between Germany and Russia. But they have huge potential. I think it would be a shame not to discover and show their talent to art collectors."
The duo started modestly with Victory Art, they financed everything by themselves. It currently has no resources from any investors, accelerators, incubators, nor does it draw funds. All costs are covered by the startup profit.
Work with 24-carat gold and creation of deaf-blind
In Victory Art, the artist must first go through the selection. One will send a portfolio, resume, and other documentation to help Viktória and her team determine whether the particular person is well priced and whether their works are of sufficient quality. "Then we think about how we want to present the artist. So we really look at it from a marketing and branding perspective. Such cooperation is a long-term commitment" she explains in more detail. In addition, they need to see a real passion for creation and art in the startup.
"Any person who has the talent and wants to work on themselves deserves a chance to show up. The market is to decide who the artist is, not the people at art schools. We want to know the opinion of art collectors who actually buy these works" adds Victoria. Startup Victory Art is currently working with 45 artists.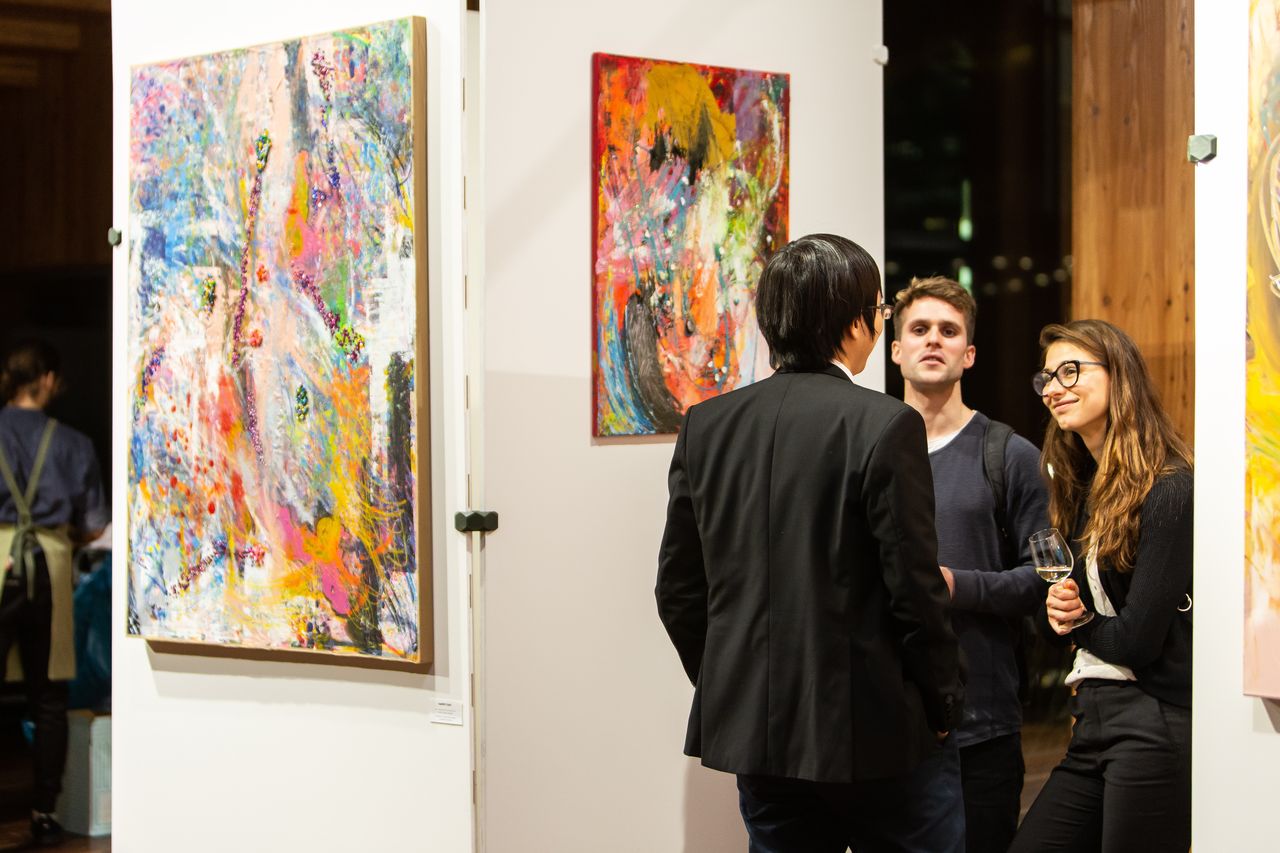 The latest exhibition TOUCH. Photo: Holland Park Media BV
Last year started with an exhibition by Michaela Chovancová in Raw Street photo gallery in Rotterdam. The exhibition dealt with the young artist's criticism of Soviet and post-Soviet culture. In May and June, she continued with the opening of Andrea Ehret and her paintings incorporating 24-carat gold in the Embassy of the Slovak Republic and the World Trade Center collaborated.
And the latest project is the Lighthouse exhibition, which features works of deaf-blind individuals. It was opened in November at the headquarters of the Dutch bank ABN Amro in Amsterdam. "The project met with great success. People tell us it opened their eyes to a whole new perspective in Art. We have also received positive feedback from the President and Vice President of the Dutch Senate." says Viktória who has big plans for the future with Victory Art. With the team, they would like to expand to other markets in Western Europe and ultimately the United States or even Asia.
At the end of the interview, Viktória admits that she loves Slovakia. At the moment, however, she is not quite sure whether her native country can accept it, which she explains straight away: "It does not give young people opportunities and does not let them do what they want and could to help the country."
The Dutch know that the business sector is the engine of the whole economy and progress. "Slovakia still lacks this mindset. However, it has great potential, "concludes Viktória.
Check out our Special Collection and the Maják Collection. You can also visit our artists' page to find out more about artists that we work with, and their artwork. We also offer art consultancy services for both clients and artists, feel free to book an appointment with us!

CHECK OUT OUR BEST BLOGS