Angelika Analóg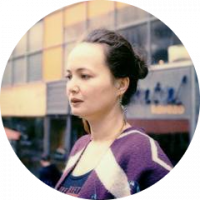 In 2009 when street art as an art form came into the spotlight, I started making paste-ups in Budapest in 2009. Some of them got really good reviews and it encouraged me to start drawing in my free time.

I drew sketches of drunk people of the night, captioning their slurred words on the drawing. These quotes appeared to be out-of-place and out-of-time. I started to share the sketches first on Facebook and then on Instagram. My friends - and later their friends - started to enjoy these silly captured drunken moments.
Drawing became a habit, and I was doing it every time when I met other people. I started to draw every single day and it became part of my social interactions. When COVID and lockdown happened, my social life and well-being dramatically changed. The urge to create needed an outlet. While the pandemic was unfolding, I was grieving the loss of my beloved father and experienced long COVID myself at the same time. To deal with my struggles I started to paint.
Initially I played with forms and colours just to experiment. I stayed nearby my favourite Lake Balaton, and the place helped me to calm down, to find my peace. I wanted to share this experience with everyone. And this is what I'm still aiming for as an artist.
I want to share the peace I find during the process of painting. Many of my abstract, Japanese Gutai movement inspired pictures are about breathing. I hold my breath while drawing a line, you hold your breath while following the line with your eyes, or tracing with your fingers. Then repeat. I think this is how we can share almost the same experience through a painting.
Something changed during my creative journey. After 10 years of drawing and only selling my art in exhibitions, I developed a new approach and began selling the paintings online through social media. It is a quick platform so my pictures were gone within a few days or hours of being posted.
Thanks to this magic, I finally became a full-time artist, which makes me incredibly happy every single morning. I wake up thinking: oh my god! I am an artist! I am really an artist! I make a living from my art!! I buy milk from the money I earned with my art! So, I think I am one of the luckiest creatures on this planet.
I love to experiment, and the variety of different mediums makes me feel alive. I really-really love to work with 23 carat gold. Gold and coal will never fade. Just kidding. Working with gold is one of the most beautiful things. I love that even the waste is incredibly beautiful during the process. I love observing the textures under the golden brush lines... They always make me feel vulnerable, fragile, small and something more than me, larger than life.
Leaving the right trace is important to me because I am a sort of Buddhist practitioner. With my paintings I would like to bring calmness, joy, and a sense of ease to the room. I also typically make a deep, personal connection with the owner of my picture by telling as much as time allows about the painting.
In the descriptions I talk about the feelings I had while working on a painting. I describe the ups and downs of the journey and the way I found the solution to a challenge. Then I talk about the process of creation with the buyer. I hope my art will help others to find the way out of all their troubles.
Are you interested in a commission artwork made by Angelika just for you?

Angelika Analóg is present in these categories: