Anna Evans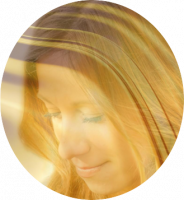 I was born in 1984 in Slovakia.

Major themes in my work include fantasy, dreams, lightness, emotion, and my personal relationships.
The world around me inspires me.
My work became increasingly influenced by abstract art 6 years ago.
Painting is part of me and I respond on canvas.
I ́m still developing technical innovation and technique of pointillism / using dots of pure colors to
producing to entity brilliance of color. The potential eye and mind of the viewer have been mesmerized into
a bright and luminous gradated range of tones. So my paintings, mostly understood as abstract can also be seen as landscape or universe in some form represent a way of the modern vision of art.
If you would like to get to know Anna more and discuss her work, send us a quick email at viktoria@victoryart.eu and we will schedule a video call for you!
Anna Evans is present in these categories: