Annet Loginova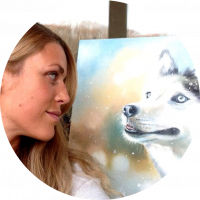 The paintings of Nicholas Roerich first inspired me to paint seriously. I started to paint mountains which later I began to feel a special energy from. It was then that I realized that I have the ability to transfer my feelings to the canvas.

As a child, I decided that I wanted to pursue art. I saw the world a little differently than the people around me. I saw it more vividly and sensually. Therefore, I went to receive basic artistic knowledge at the school of art, and later at the art institute. After I graduated, there was a long way to becoming a professional artist.
In my paintings, I like to tell the audience about those things that we often forget about. These things include our attitude toward nature, towards animals, towards each other, the beauty of the universe, and our feelings. The world is very multifaceted, and I try to reveal this diversity in the subjects of my paintings, to pay attention to all the beauty that surrounds us. I aspire for the people looking at my painting to experience the inspiration and a desire to create and love. Many of my clients told me that my paintings have a therapeutic effect, and heals their soul. With my artwork, I try to awaken the desire to create in my viewer.
The main style of my painting is impressionism. Bright spots on monochrome gray shades, expression of lines, colors, and transitions. I love to make the canvas sound like music. I often use gold and silver leaf in my paintings. Many people characterize my style as bright and delicate and note my special character of making strokes of paint and unusual texture technique, an exceptional harmony in my abstract works. I love eclecticism and experiments, so I often use different materials for my paintings: mosaics, beads, glass, ink, and epoxy resin.
"My goal is to tell these amazing stories, tales of good and magic through my paintings"
Education:
2004-2009: Moscow Art Industry (MHPI). Faculty of Environmental Design
Since 2012: Member of Professional Art Union of Russia
Exhibitions:
2021: International Landscape Artist Exhibition. "EX-TEMPORA", Slovenia
2019: ARTFLECTION, Danylovskiy Hall, Moscow
2018: ARTFLECTION, Central. Telegraph, Moscow
2017: Personal Exhibition, "Angel's Dance", Romanov Dvor, Moscow
2017: Personal Exhibition, "Agalarov Estate" Golf Club, Moscow
2016: The "Characters" exhibition, Moscow
2016: The "Charm" exhibition in the city museum of Nakhodka
2015: Presentation of "Fanyasha. Angels among us" book, Moscow
2015: The "Inspiration" exhibition in the city museum of Nakhodka
2022: Participation and first place, the exhibition "my tender beast", Nakhodka, 2002
Book Illustrator:
2015: "Fanyasha. Why do angels need people?" by Marianna Rosset, Moscow
2016: "The Choice" by Lola Plekhova, Moscow
2017: "Fanyasha. The downside of love" by Marianna Rosset
2018: "A Happy Day" by Lola Plekhova, Moscow
2020: "Hypostases of love" by Alesya Shapovalova, Moscow
Are you interested in a commission artwork made by Annet just for you?

Annet Loginova is present in these categories:
Need more help?
| Certificate of Authenticity | 14 days money back return policy | Safe checkout guaranteed | |
| --- | --- | --- | --- |