Jelena Milatović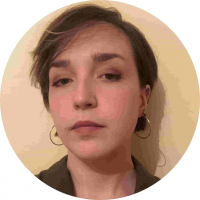 Each of the countless number of moments we are endowed with has its intrinsic beauty well worth tapping into, and every one of them gives us the privilege of calling it "now" at some point.

Unfortunately, so many details pass right in front of our eyes unnoticed and so many interesting nuances in our feelings evaporate quickly; such is the nature of that ephemerality that even when aware of it, there is really not much that can be done – but be fascinated (and a bit frightened) about the fleeting nature of life.
Thankfully, one of the ways do express that fascination – my personal favorite – is transferring a carefully chosen instant and its accompanying emotions onto a canvas, a paper, or anything at hand for that matter, thus giving the whole world an opportunity to relive the scene.
Now on a more personal note: I was born in Russia, my home is in Montenegro, and I currently mostly reside in Serbia. I've had interest in art ever since I was little. I've always loved drawing and painting because my mind can wander during the process and I find it very relaxing. My first serious steps towards becoming at least something of an accomplished artist were during elementary school, when I started investing more time and effort in art class, and afterwards when I decided to enroll at a high school of arts in Cetinje, Montenegro, all the while taking part in competitions whenever I could.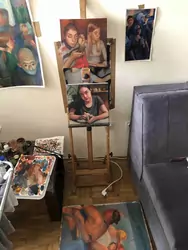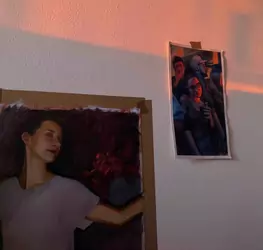 In high school I had a motivating environment to practice and become a lot better at painting, as well as drawing and other types of visual art. That one decision helped me grow as an artist and motivated me to stay on the course of doing what I've always enjoyed doing. As a logical step forward, I seized the opportunity and enrolled at the Faculty of Fine Arts in Belgrade, Serbia, where I earned my bachelor's degree. I plan to further my knowledge and skills by going to master's studies. And, of course, continue working on myself in free time.
Details, moments and interactions in everyday life that one usually does not reward with the attention they deserve, all inspire me and that is the way I choose which "now" to eternalize. A sort of diary, my works are mostly comprised of sights and happenings I am in some way directly connected to and tell a personal story, packaged into genre paintings done in an academic style, but with a contemporary twist.
At least that seems to be in theory what I strive for – but defining things may impose limitations – so I sincerely hope that you will look at my art the way that you find the most pleasant and enjoy your own impressions of it. Thank you.
Are you interested in a commission artwork made by Jelena just for you?

Jelena Milatović is present in these categories:
---
Need more help?
| Certificate of authenticity | 14 days money back return policy | Safe checkout guaranteed | |
| --- | --- | --- | --- |