Yulia Paliy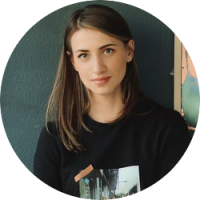 My name is Yulia Paliy, I am an abstract artist. Mostly, I work in liquid stores painting techniques, namely: Resin art technique (epoxy resin); Fluid art technique (liquid acrylic); Alcohol ink technique (alcohol ink). There are exceptions when I paint in a traditional way.

I love and have a craving for new things, which is probably the reason why I have become so attracted to the rare painting techniques in which I work now. By comparison, they are still young and have many unread pages that I want to discover not only for myself but also for the world through my creativity.
I have been engaged in creative work since childhood, but I do not have a higher art education. I graduated only from secondary art school at the age of 15. Fate turned out that I received higher education in law, but during whole my life I did not leave drawing, and in the end, creativity still became my main profession, despite the lack of specialized education.
Now I have my art studio in the city of Ivano-Frankivsk, where I spend all my time, conduct master classes for adults and children. Also, I conduct individual training for people who plan to engage in creative work in the future. These masterclasses, individual training, and communication with people who also feel art like me, become my main source of inspiration for creating my paintings. When I see their emotions in the process of pouring resin or applying paint, and when they watch the flow of colors and their eyes glow with happiness, then I get my share of inspiration.
Of course, as for all artists, the environment is also very important for me. Especially that what surrounds me, what I meet every day, what I see, what I hear, and what I listen to. This is all reflected in my works, my mood, my impressions, or memories. Therefore, I try to travel more around my beautiful country and the world, see what I haven't seen, communicate with new people, and learn something else I don't know.
During the existence of the studio, which is about 1.5 years, I have painted more than a hundred paintings of different sizes. In most cases, my work is interior paintings that people hang in their homes, offices, and even restaurants or hotels. I put a piece of my soul into each of my paintings because I understand that someone will look at them every day, and they will carry their special energy to these people.
Are you interested in a commission artwork made by Yulia just for you?

Yulia Paliy is present in these categories: