Juraj Baláž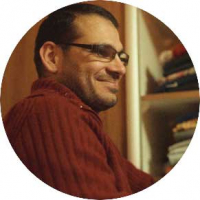 Born in Shina in 1980, Juraj describes himself as a loner who was abandoned by his parents. His poor eyesight prevented him from learning to paint. But when coming to Maják, he finally found a place to think, relax, and be with himself.

His caring, music-loving, and scholarly-curious personalities are expressed through his spiritual canvas works depicting his work with themes of nature and protective figures.
A self-aware resident, he can't help but describe in detail how his deteriorating tunnel vision and auditory impairment hindered him to always seek help from outside. He prefers using sign language to communicate, despite his frequent struggle to understand it.
Despite his emotionally explosive and stubborn nature, he is a caring, protective, and charitable person. He can often be found helping others walk, play or eat, and donating artworks that he made. His favorite hobbies include watching action movies and sports, especially football. Despite his auditory impairment, he has music in him and can be frequently found dancing around to his own tune.
Are you interested in a commission artwork made by Maják just for you?

Juraj Baláž is present in these categories: