Kate Grishakova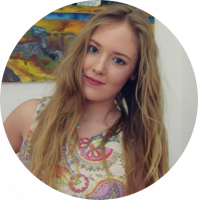 My name is Kate Grishakova. I am a Russian-Slovak artist. I create vivid, bright paintings in an impressionistic manner. I compose poems, which often reflect my boundless love for people and life.
I was born on 21 November 1994 in the town of Zhukovsky near Moscow. Since then I have traveled a lot and have always been on the search for something beautiful, lively, and transcendent. For me, the meaning of life is life itself, in its uniqueness and unpredictability. I try to capture a moment of beauty so I take paints and paper with me and create on Plein air.
I started to paint as a child. I definitely can say, that I do it my whole life! My favourite art materials are oil colours and watercolours, but sometimes I paint with acrylics and craft things.
I was studying painting in Art Studio in Russia for 8 years until I came to Bratislava. I graduated from mathematical school with a gold medal in 2012, then the Plekhanov Russian University of Economics with honor in 2016. I made my diploma thesis on the topic «Project of Art School Gallery in Bratislava» and now realized it!
I came to Bratislava in 2015 as an exchange student and found tremendous inspiration here, so I decided to finish my Master's degree at the Slovak University of Economics.
Bratislava became a place where hundreds of roads came together.
Now I work as a freelance artist and teach people how to paint in my own studio in Bratislava.
Exhibitions
2019 «My places» Cafe "Lampy", Bratislava
2019 «Teacher and her students» Business Center Aircraft, Bratislava
2019 «Moments of Happiness» Cafe "Scherz", Bratislava
2019 «Follow my dreams» Office Gallery "Kerametal", Bratislava
2018 «My beautiful Bratislava» Business Club "Penati", Bratislava
2018 International Fest of Modern Art "Atelier", Prague
2018 «My friend Vincent» "Michalsky Dvor" Gallery, Bratislava
2018 «With colours through the world» Russian Centre of Culture in Bratislava
2017 «This beautiful world» CT Gallery, Bratislava
2016 Art salon "Leonardo", Moscow region
2016 «Blossoming world» Museum of Malakhovka, Moscow region
2013 Literature association "Chosen by muses", Moscow
2013 Winner of the competition "Chosen by muses" in Fine Art, Moscow
2013 Prize-winner of Student Festival of Arts "Festos", Moscow
2012 Plekhanov Russian University of Economics, Moscow
• Participation in many collective exhibitions in Moscow and Bratislava
Achievements
• Five poem books
• My poems are published in several books
• Prizewinner of many poetic competitions
• Nomination for "Poet of the year" 2011, 2012, 2013, 2016, 2017 and "My Rus" 2017, 2018
• Laureate of Gromov Stipendium 2010
• 2 articles in Russian Science Index about Innovations in Art and Ecology
If you would like to get to know Kate more and discuss her work, send us a quick email at viktoria@victoryart.eu and we will schedule a video call for you!
Kate Grishakova is present in these categories:
Want to see how the art piece looks like at your home → Rent it first
Every art piece is coming with a Certificate of authenticity
Buy now pay later → Check payment plans
14 day return policy → Money-back guarantee
Do you have any questions → Contact us
We accept these forms of payments: Visa, Visa Electron, Mastercard, Mastercard Electron, Maestro, Visa Checkout, Masterpass
Are you interested in an art piece specially created for you → Check commission artworks