Monika Varcholova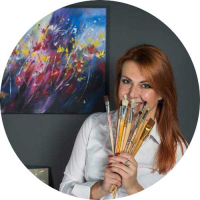 My story had a late start- it began after years of draining, time-consuming back and forth in the commercial world. After feeling a need for a creative boost, I thought why not leverage her talent for playing with colors and dip my feet into the world of abstract art.

The tipping point came when my work was commissioned by a stranger and I was offered my first exhibition. Since then painting became part of ME.
It was only after I bought all the materials and was ready to just go crazy with the colors that I realized that it is actually not that simple. It was then that I started taking art classes. Frustrated with the slow progress though, I began to dedicate myself to art quite seriously and soon became confident enough to show my finished pieces to my relatives who cheered me on.
Are you interested in a commission artwork made by Monika just for you?

Monika Varcholova is present in these categories: